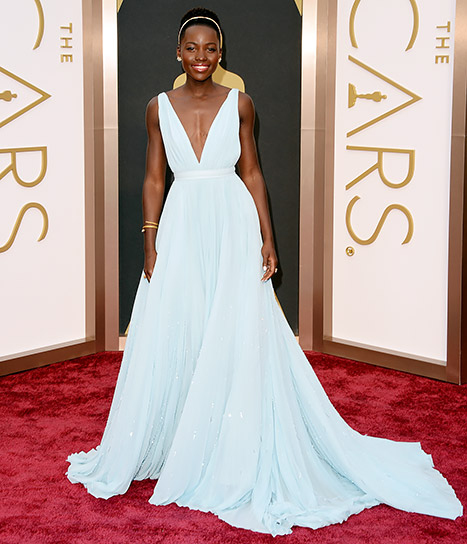 I watched the Oscars yesterday evening, and I was greatly inspired. Going into it, the people I wanted to win most were Chiwetel Ejiofor for Best Actor, Leading Role and Lupita Nyong'o for Best Supporting Actress. And naturally, I wanted 12 Years A Slave to win every category it was nominated in. The bad news is that Chiwetel didn't win, but the good news is that Lupita won, and so did 12 Years A Slave (in the Best Picture category).
Lupita – as you can see from the picture –  looked so beautiful. I put a picture of her up on Instagram where I called her an African Queen and mentioned that she looked like a Disney Princess. One thing is certain: every year seems to be someone's year, and this is the year of Lupita Nyong'o.
In her speech, she said something that relates to a lot of us, especially immigrants. She said, "No matter where you're from, your dreams are valid." I was deeply encouraged by this because for me, my dreams are far beyond what I think I can accomplish by myself. Become a pro blogger is only the tip of the iceberg when it comes to my dreams. I have dreams that are so big that I'm afraid to even think about them, and even people who are close to me don't know all the things that swirl around in my head.
Seeing Lupita on that stage, holding that naked golden man in her hands, was a pleasure. And whether she knows it or not, and whether we agree or not, a door opened for Lupita means more doors opened for us – Kenyans. Nigerians. Africans. Immigrants. So what's not to like?
Lupita, I am very happy for you. You make my dreams seem that much more possible. Congratulations.