When I looked at my phone yesterday morning and saw that Lupita Nyong'o was named People Magazine's Most Beautiful Person of 2014, I was in awe. I was happy. Too happy. I immediately put it up on Instagram and spent the rest of my day thinking about the irony of Lupita's win.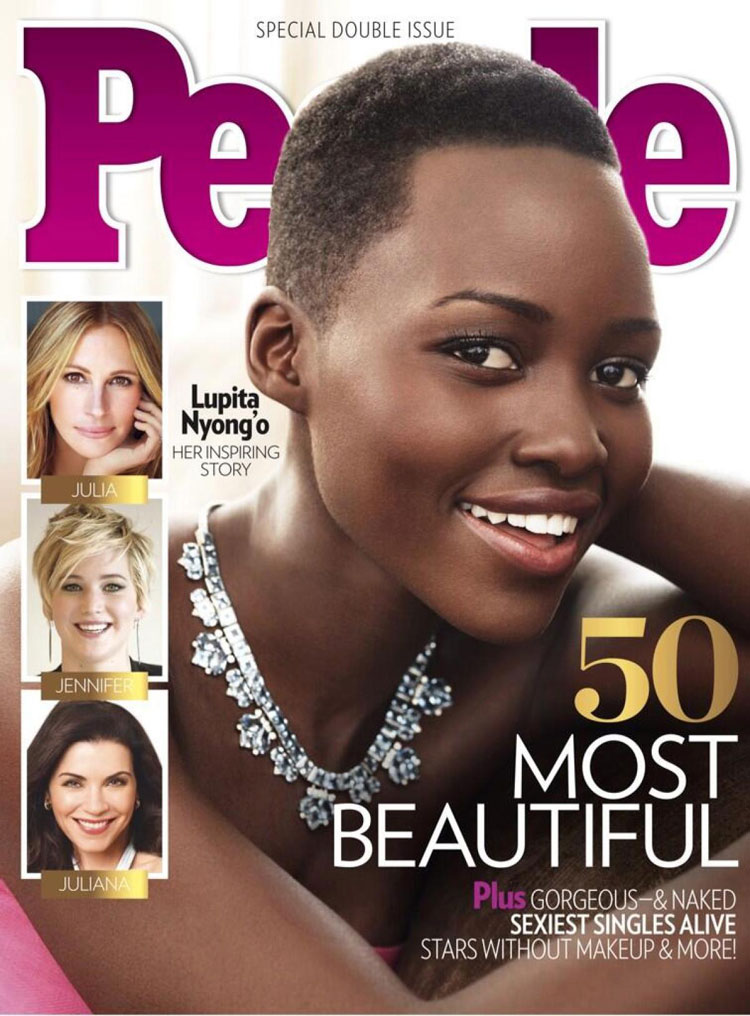 How is it that a Black girl – a black-skinned Black girl – from Kenya, with an accent, and with a last name that has an apostrophe in it – is the most beautiful girl in America? She's the current Hollywood it girl and everyone is in love with her mega watt smile. Lupita's name is on the tip of everyone's tongue and her face is constantly plastered on our TV monitors and in the glossy pages of magazines.
So I thought about what Lupita Nyongo's win should mean to every African – male or female.
1.  It is no longer enough to use the color of your skin as an excuse to not be great. That shit is for the birds now.
2.  It is also no longer enough to use your African roots as an excuse to not be great in America or whatever foreign land you live on.
3.  When it comes down to it, what you name your child is not what will make him/her great. So for all the Africans who don't want to give their children first African names because God forbid an American may try to pronounce the name, the joke is on you. Lupita Nyong'o isn't an American name. The last name has an apostrophe, but I am yet to see an American who cannot say and spell the name right.
4.  White is no longer all that right. Okay, that was a desperate and pathetic attempt at rhyming. What I mean is, being White is no longer the automatic key to heaven on earth. These days you have to do some kind of work for it. Have you seen the color of Lupita's skin? Some beauty giants don't even have her foundation shade.
5.  Speaking of being white, no amount of Whitenicious is going to get you on the cover of People Magazine. If you don't believe me, ask Dencia. She says she's a singer, but she's most popular for her bleaching cream.  So bleach away at your own risk.
6.  It's okay to be an immigrant AND still be super duper awesome.
7.  It's perfectly fine to have natural hair and/or low cut hair and still be extremely stylish.
8.  Lupita has an accent, and it has probably contributed to her awesomeness. She isn't trying (and falling all over herself) to sound like someone else. Nigerian celebrities, do you copy?
9.  You can go to school and study a degree that isn't nursing, medicine, pharmacy, law, etc. If these are the things you want, then go for them, but if you'd rather have a degree in theater art, please go for it.
10.  You can be quite Black and still be the face of a white beauty brand. Ask Lancôme.
11.  Finally, you can be a woman, be 31, be unmarried, and still be awesome. Who knew?
This about this: this time last year, most of us had never, ever heard of Lupita Nyong'o, but if you Google her name now, you'll get 176,000,000 results. Congratulations, Lupita Nyong'o! Just keep on blazing through.