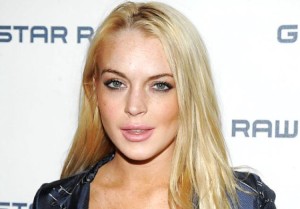 Wait. What??? How's that even possible?
Lindsay Lohan will sit with Oprah Winfrey for an exclusive interview. That's not surprising news. I mean, it's Oprah. But the shocker here is that Lindsay will be getting an eight-episodes docu-series on OWN. I don't understand. Lindsay Lohan on OWN? As in, the Oprah Winfrey Network? Shut the front door!
The network's spokesperson confirmed, "OWN will air an exclusive interview with Oprah and Lindsay Lohan that will tape and air in August and an eight-part documentary series with Lindsay for 2014."
There is a certain perception that I have of Oprah Winfrey, and to sum it up, it just doesn't have Lindsay in it. My perception of Lindsay Lohan also doesn't have Opray Winfrey in it. Plus, what on earth could Lindsay possibly want to document? Don't we already have her on tape stealing jewelry, totaling cars, getting drunk, acting badly, and possibly using drugs? What else is there to see?
But to sleep better at night, I'm going to think about Oprah Winfrey being a business woman. Yes, she has a certain level of sophistication and class which I think she has carried over to OWN, but class doesn't always sell on television. So perhaps, Lindsay Lohan will bring a certain kind of drama to OWN that it otherwise doesn't have.
Are you going to watch Lindsay's documentary? I wish I could tell you that I am far too sophisticated to watch this, but I can't. Now, I will not be necessarily be watching out for it, but if I do come across it on television, I'll watch it. Then I'll come back and blog about it.