Spoiler alert! If you haven't watched Season 3 to the end, don't read this post.
This past weekend, Igwe and I — and possibly most of America stayed home to binge-watch House of Cards. It started on Friday and ended on Sunday, but we didn't actually watch any episode on Saturday, so it was just Friday and Sunday. So in this season, Frank Underwood is President of the United States, and his wife, Claire Underwood is First Lady, of course.
Okay, there are two major times that Claire pissed me off in this season. Actually, make that 3 times: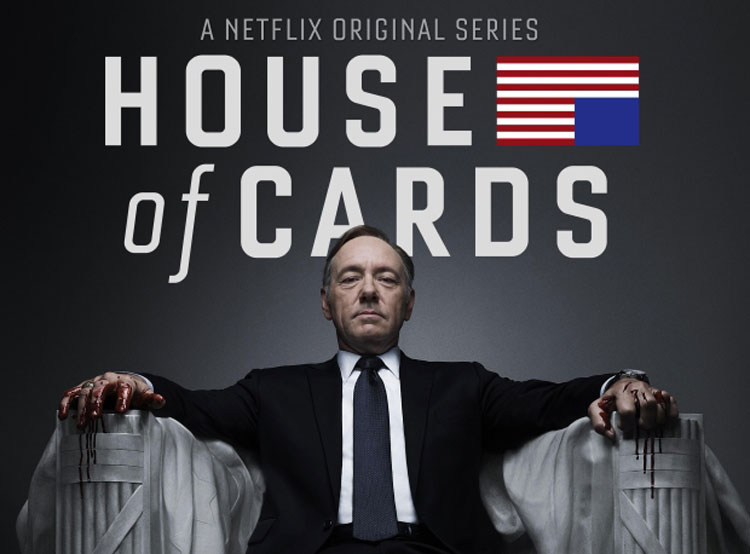 1.  When Claire insisted on being the U.N Ambassador: She had no experience being an ambassador or holding any position that was remotely like it, although she seemed to think that her experience running a non profit was just like being a U.N Ambassador. So in spite of her husband's reluctance, she said she wanted it, and he made it happen. And of course, he was accused of nepotism. Honestly, that's what it was. Would he have otherwise nominated someone with such limited experience to a position of that caliber? Frank did everything Claire said, but he did not listen to her as a President listening to his Ambassador; he listened to her as a husband listening to his wife, which all married people know is a different kind of listening because happy wife = happy life. This isn't necessarily how it happens between a President and his U.N. Ambassador, I hope.
2.  When Claire insulted Russia's President Petrov in front of the Russian people: Basically, there once was an idiot. His name was Michael Corrigan, and he was a gay rights activist who was imprisoned in Russia for his activism. Why do I think he was an idiot? Because (1) He's a non Russian who went to Russia to fight against their laws. Ah, ah, is it by force? (2) And because when a deal was finally made for him to just read a short script, he refused, and (3) After hanging himself, it didn't change anything.
Allow me to go off topic for a minute: as a non American living in America, I have noticed that sometimes, Americans do not understand that their ways, while sometimes admirable, are not for everyone and cannot be enforced on everyone. This includes whatever anti gay laws Russia has. The people of Russia are not pro gay, so why don't you stay in America and continue to pursue your gay cause? Why get on a plane and go to another man's country to demand that they live life like you? How does that even make any sense? So when Claire had to give a speech after Michael Corrigan killed himself, she took it upon herself to insult the Russian President in front of press because of the Russian anti gay laws. Who does that? Who insults a sitting President — in his own country — in front of press [she said, "Shame on you, Mr. President] — and then walks off? And she's the First Lady of the United States and the United States Ambassador to the United Nations. Who does that??? Clair does.
3.  When she refused to campaign for her husband and then said that he's not enough: Her husband, Frank is running for President, and of course, that comes with a lot of campaigning. During the Iowa Caucas, Claire didn't show up. Instead, when night came, she slapped him around a few times and demanded violent sex. She went back to Washington D.C. the next morning and when he came home, she told him that they were lying to each other, that their relationship wasn't 50/50, that she was in his shadows, that she needed him to be able to do things ['and hated needing him], and that she hated the person she had become. Oh, and that he wasn't enough for her. Then the next morning, it was time to go to New Hamshire, but she said she wasn't going. Instead, she told him she was leaving him. And that was the end. So long, Season 3. Waiting for Season 4 in February 2016. Ugh!
Okay, my problem with this? Claire does a lot of complaining about what she doesn't like, what she doesn't want, how she feels — but never really gives an alternative. She's mad that she needed Frank to nominate her before she got the Ambassador job, but it's crazy that she's saying this because has this not always been the plan? Have they not been fighting to become the POTUS and FLOTUS? If someone else was the President, would she not still have needed a nomination — or at least support – from him? And if she doesn't want or like all these things, then what does she want? Guess we'll find out in Season 4.
Okay, I'm done venting. Anyone else watching House Of Cards?
P.S. Kevin Spacey and Robin Wright are some bad asses!
P.P.S. I like his bloody hands. I don't know why I find them sexy.