This past weekend, Funmie and I attended a couple of events. At one of the events, our friend – a guy – was there and we all chatted and laughed together. He introduced us to a girl as his wife. He said it jokingly, so I didn't know if he was serious or not. But each time he said something like, "This is my wife …" she'd look at us and just look away. And I'm thinking, ah ah, warris the problem? Are we dragging boyfriend?
I didn't even look at her face very well, as there was nothing remarkable about it. However, because of the way she was sitting, I could see her arm pits. And all I saw was long, black, curly hairs. In the name of all things good, noooo! See, if you're going to be having an attitude like that, the least you can do is shave your pits. Without even knowing her, I already felt like she might smell bad.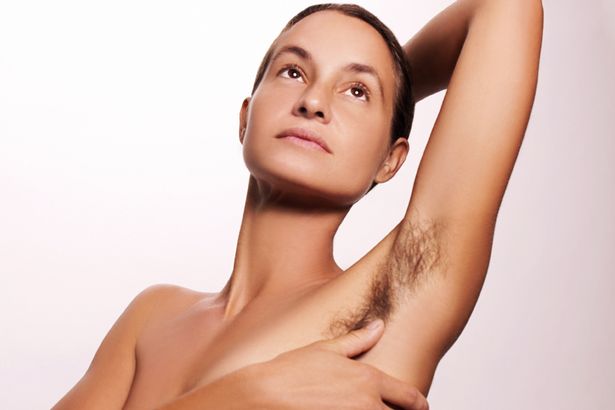 I know that the issue of women shaving their hairs (arm pits, vagina, legs) is somewhat controversial – silly, I know. Some feminists people believe that women should not be made to feel like shaving their hair is a must, or that not shaving their hair makes them somehow less feminine. Whatever. For me, I am most comfortable without a lot of hair. I will not sit here and tell you that at any given moment in my life, I am completely hairless everywhere.
My feeling about body hair is simple: less is more. I'll admit that it's easy for me to say that less is more because naturally, I already have less hair than the average person. My parents aren't hairy either. I don't know if my father has hair on his legs, but I know that my mom doesn't. If she does, the hairs are so few and fine that you don't even feel them.
So you might disagree with me, but I really think that hairless pits look better on a woman. On a man, however, I'm okay with a little hair. Key word here is little. I don't want him to look like there's a lion's mane trapped under his arms, but a little hair is okay.
Speaking of pit hair, there's a campaign called, Armpits4August. It's going on right now as we speak from August 1st to August 31st. It's for women and people with Polycystic Ovary Syndrome (PCOS). "Participants grow underarm hair for one month, and ask friends and family to sponsor them to raise money for Verity, the charity for people with PCOS."
You must be thinking what I'm thinking: why the heck do people have to grow armpit hair to raise money? Well, one of the symptoms of this illness is excessive hair growth. So when people deliberately grow their hair in order to show support, it's kind of like how you shave your head to support someone going through chemotherapy.  But there is more. They also believe that society has placed a ridiculous standard of beauty on women, making them go against what is otherwise natural: hair in pits.
Growing my armpit hair for a cause? I ain't about that life. But if this is something you may be interested in, then you can find out more about it here. Feel free to send in a picture of your pit hair for blog publication.
How do y'll feel about pit hair?
Picture source: Daily Record