I am so freaking excited right now. Well, I've been excited for the past week since Solachi had a baby and we became god parents. I couldn't mention the pregnancy on the blog because Solachi warned me to never, ever mention on the blog or on social media that she's pregnant. Our baby finally came on Wednesday, March 11th 2015, weighing a little over six pounds, and two days ago (March 18th), we celebrated my baby's naming. I won't even bother telling you her official names because what matters is the name I started calling her before she was born [and the name I will continue calling her]: Amaka. She is beautiful beyond words. Igwe calls her Amaka Akinsanya, and I call her Amaka Ezimora, so on the issue of Amaka's last name, we are a house divided, but Verastic is mine, so on this blog, she's  always going to be Amaka Ezimora.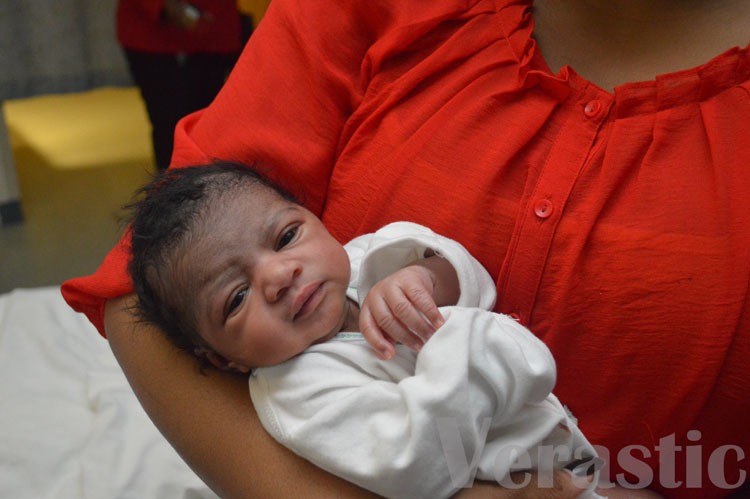 The naming went well, and as usual, there were so many people. I'm not putting any of Solachi's guests on blast (although y'll know yourselves!), but dang, Nigerians, why do we act like we've never eaten rice when we go to a party? Soon as the food started getting served, people were packing take away for their ancestors. Tufia kwa for you people oh. Solachi's mom-in-law cooked the food (she's a licensed caterer), so I knew how awesome the food was going to be, but haba, when you go to an event, have a little shame. Just a little bit.
I was so tired by the time we got home some time past 11pm. Unfortunately, Igwe isn't in any pictures from the naming because he was the [unofficial] photographer while I was in the kitchen counting grains of rice and trying – and failing sometimes – to block the kitchen entrance and stop people from crowding in the kitchen and running away with all the food. I literally put a chair by the kitchen door and sat on it. I even gave my job a name: Protector of the Realm. I might have watched way too many episodes of Game of Thrones. All I needed was to draw a sword and start chanting, "That what is dead may never die…" and "Winter is coming …" Anyway, back to Igwe, I regret that he didn't appear in the pictures because he was looking 51 shades of sexy. I have never known god fathers to look so good. I wanted to double tap that ass. Actually, I did.
The day she was born, I could not wait to get to that hospital to meet our little angel. She was so perfect. I kept staring at her and thinking, this little angel doesn't know what kind of world she has been born into. There is so much chaos. Still, as I looked at her, all the chaos in the world seemed tiny compared to her perfection and the miracle that is life. God is truly, truly amazing. To Him be all the glory.
P.S. She was a miracle baby because Solachi had been telling everyone who cared to listen that she was DONE with having children (she had two before Amaka). I won't shame her here by telling you how she ended up pregnant, but if you meet me somewhere, feel free to ask. I'll tell you then.
P.P.S. Solachi's real name is Busola, but in high school, we called her Sola. Eventually, I Igbo-fied the name by making it Solachi. She's the friend I've known the longest: 15 years! I know, I know, I have tried!