You remember Christina Aguilera? Yeah, the pretty Ecuadorian and Irish blonde with a big voice. She's still pretty, still Ecuadorian and Irish, and she still has a big voice, but she isn't so skinny anymore. I'm sure you know that already, and that's not what this post is about … or why I am vexing. Yes, I know I'm always vexing.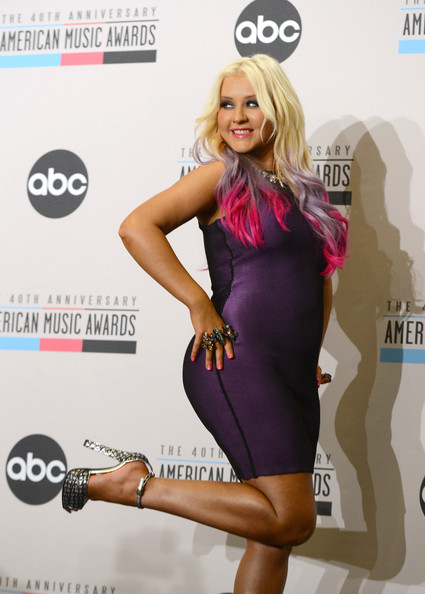 Once upon a time, she used to be skinny. And all the media outlets talked about how fit she was, how beautiful she was, and just how absolutely awesome she was. Now, she has become curvy. And the story has changed and yet remained the same.  Peeps are talking about her beautiful curves. Quite honestly, I like the way she looks now. But I might be biased. I tend to appreciate curves. I wonder why.
So here's what I learned on TMZ: Whitney Thompson, model, winner of America's Next Top Model, and president of dating site, thebigandthebeautiful.com wrote a letter to Christina Aguilera, offering her $3,000,000 to be the face of the dating website. Three million dollars! That's about four hundred and fifty million naira (N450,000,000), for those who speak in naira [calculated at the exchange rate of one dollar to one hundred and fifty naira).
While I'm glad that it pays to be curvy, I'm still vexing! What about the rest of us?? Some of us were curvy long before Christina got here, and we reserve our right to be offered $3,000,000, too. And by we, I am really referring to I. Just me. If anyone else wants in on this, you need to go create your own blog.
Dear TheBigAndTheBeautiful, we need to talk. Let me save you some a lot of money. I can do double of everything you want Christina to do, and it'll cost you less than half the price. Yes, even the original jingle. I can do that, too. It may not be like Christina's – it will be nothing like hers – but it will be a jingle, and you are gonna love it. I can even do a duet with Timi Dakolo – who is a very non-curvy man … whew! – and it wouldn't cost you extra.
Come on, what do you say? *ferociously batting eye lashes*
P.S. As far as I am concerned, all Christina is doing is spoiling the market for the rest of us. I like her curvy, but I don't want her curvy. She needs to remain skinny. The last thing we need is an already rich and famous woman joining the curvy boat. No. No. No. We will not take it.
Who's with me?
Credits: TMZ