Yes, I know we are five years late. What had happened was, I heard about the show, and I meant to watch it, but it never happened. And it's not like I heard about it when it even started. By the time I heard about it, it was hard to add it to my already long list of shows to watch. But thanks to Netflix, we just started watching it. And we love it!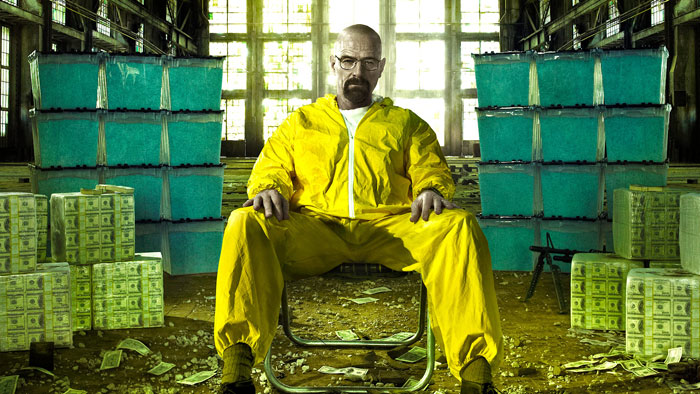 I told Igwe that I had heard so many great things about the show and I wanted to know what all the hype was about. So we found it on Netflix and began our journey. The first few episodes were slow, and I would have probably quit if I wasn't determined to watch it. Then it got better. And better. I watched Walter White go from an ordinary nice guy and forgettable high school Chemistry teacher to an extraordinary Meth cook and certified bad guy. I'm talking O.G. (Original Badoski).
We are now in Season 3, and with every episode we watch, we are itching to watch two more. We were supposed to go on a movie date on Friday to see Anchorman 2, but Igwe said he wanted to stay home and watch Breaking Bad. So we did just that. And we moved the date to Saturday night. But when Saturday night came, we watched one episode of Breaking Bad and didn't make it to bed till sometime between 3 and 4 AM.
I didn't want to go to bed late on Saturday because we had to wake up early for church, but Breaking Bad will not let us sleep! And you know how Netflix works. When one episode is done, the next one automatically starts a few seconds later, so we say, okay, one more episode. Needless to say, when the alarm went off on Sunday morning, neither of us woke up. I am ashamed of myself.
Oh, but guess what I dreamt about on Friday night? It was me breaking bad. I was a bad ass! A total bad ass. Ehm, American Government, please don't come for me. It was only a dream. I did not actually break bad, nor do I intend to. Plus, although I aced both of my Chemistry classes, I can't remember much past the definition of matter.
Do you guys have any recommendation for other TV shows to watch?