I'm all for people being fit and showing it off and what not .. of course … it's great. But there are certain people that you just don't expect to see not fully clothed, especially after they have gone through certain  phases.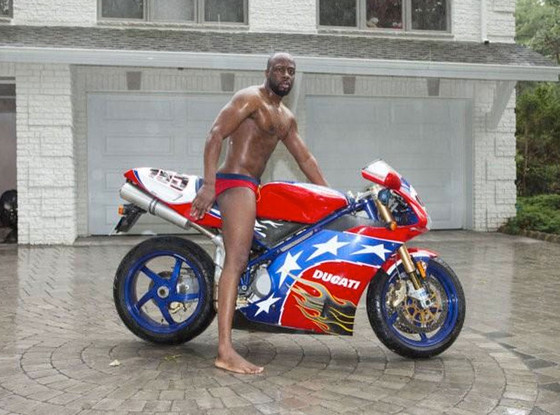 Like him, for example.
Happy birthday to Wyclef, but a little more clothes and a little less oil would have really sufficed. It isn't that he's 43 that is making me look at this picture in amazement. And it isn't that he's scantily clad and glowing that is making me wonder either. It's the fact that this man once ran to be the President of Haiti. Or should we just pretend like that never happened? I would think that there is a certain level that a once presidential candidate is now on, and on that level, people don't post almost naked pictures of themselves on their bikes, albeit a Ducati. But I might be wrong. I've never been a presidential candidate.
On that note, I just want to point out to his stylist – in case of next time – that she forgot to rub the baby oil or cooking oil ("granut oyel" in Nigerian accent) on the lower part of his body. If a 43 year old man must be as shiny as a mirror, then the least we can ask is that he be shiny all the way.
P.S. And this is a complete waste of oil! People are hungry, and we could have used this oyel to fry plantains or eggs. I'm just saying.
Happy Sunday