The other day I typed a whole post about what to pack for a blog conference, and then I realized I should probably first tell you about how to prepare for said blog conference – all the things you should do before you even get to the packing part. After attending one blog conference (by BlogHer), I now think that I have arrived. I even have the audacity to type a whole post about what you should do. Yes, ke!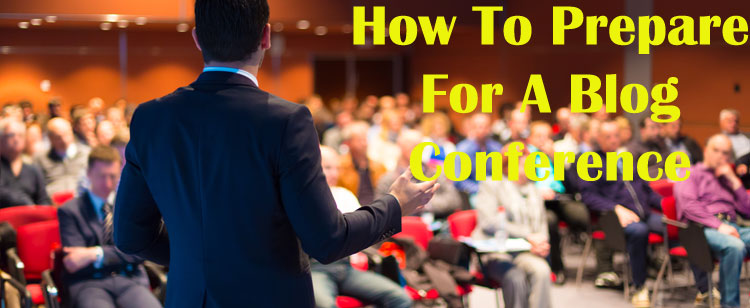 First of all, let me start by saying that a blog conference – or any conference at all probably – does not get mastered at the first try. The more you go, the more you know. So even as I type this now, I'm looking forward to learning more tips – which I will in turn come back and share with you. This might be your first conference, and if you're feeling scared and intimidated and confused and unprepared, you can be rest assured that you are in great company.
Before you show up for that conference, here are some ways to prepare for it:
1.  Research the conference(s): All conferences are not created equally. Don't go to a conference just because Mary and Jane went. For example, would you rather attend a big conference with thousands of people or a small, more intimate conference? And sure, that conference for travel bloggers is fun and popular, but you're a food blogger, so will it really benefit you?
2.  Save money, pay early: A lot of times, these conferences have early bird prices, so if you can, purchase early, so you can save about $100 or more.
3.  Decide your goals: What are you trying to accomplish by attending this conference? Do you want to network with fellow bloggers and brands? Do you want to learn more about blogging? Do you want to learn about SEO? Whatever it is, keep it in mind, and be sure that this conference has what you're looking for.
4.  Make a list of people/brands you want to meet [Optional]: I say optional because you may not necessarily have a list of bloggers/brands you want to meet. But if there's one, make a list, so you don't forget.
5.  Research the menu of events: Blog conferences have multiple events going on at the same time, and unless you're a witch, you probably can't be at two at the same time. Don't try to attend half of one and half of the other one. Been there, don't do it. You'll end up losing on both ends. Research the events (break out sessions/focus groups) and decide which one works best for you.
6.  Plan your outfits: Plan your outfits according to where you plan on going. For example, you might get invited to a cocktail shindig. Do you really want to show up in shorts and sneakers? Whatever you plan on wearing, make sure you're comfortable.
Side note: Another reason to plan your schedule is that you might be going from one event to the other without time to change, so a prom gown may not be appropriate for a picnic.
7.  Have an elevator pitch [I'm still working on this, and I didn't have one when I went for the conference last year … not good]: You're going to meet a lot of people, and they will ask you the same question: what is your blog about? Can you answer definitely and confidently in 30 seconds? That's your elevator pitch. Create it. Master it.
8.  Don't forget your hotel accommodation: Once in a blue moon, the gods of blog conferences will shine upon you, and the blog conference will be in your city. Until then, don't forget to make arrangements for your accommodation. If you need a roommate, ask around. There are always people looking for roommates, and while you're at it, make sure you vet your roommate as much as possible.
9.  Follow the conference on social media: Follow the hash tag on Twitter and Instagram, join the Facebook group or page. That way, you're always in the know. This is also a good way to find a roommate. This will be a good way to find a roommate also.
10.  Update all your profiles: Every single one of them. Blog, Twitter, Facebook, Instagram, Pinterest, everything. You'll be meeting people for the first time, so you don't want them to e-meet an older version of you.
11.  Schedule posts for while you're away: Unless you don't want/have to. But it'll be nice to still have an updated blog while you're out. You might not have time to blog while you're at the conference.
12.  Read up on the sponsors/brands: Check out the sponsors who will be in attendance, so you can decide if you want to meet them. Check out #4 above again.
13.  Order your business cards: Close your tabs and step away from your computer. I know, I know, there are so many pretty cards. Don't overspend on cards. Make sure they represent you and your brand, of course, but more than likely, you will change them when you come back from the conference. Don't spend $200 designing a card you'll have to change.
Now, go on and be a baddie boo for the conference. Good luck! And if you see me, please say hi! I can have tunnel vision and not see anything else around me.