I stumbled upon an article the other day, and I now cannot remember where. But the article listed a bunch of ways that you know he's a player. Some of them were pretty cut and dry, but there was one that stood out to me. It's definitely how to know he's a player. It's all in the phone. One way – according to this article – to know that he's a player is by watching the way he keeps his phone. Face up? Or face down?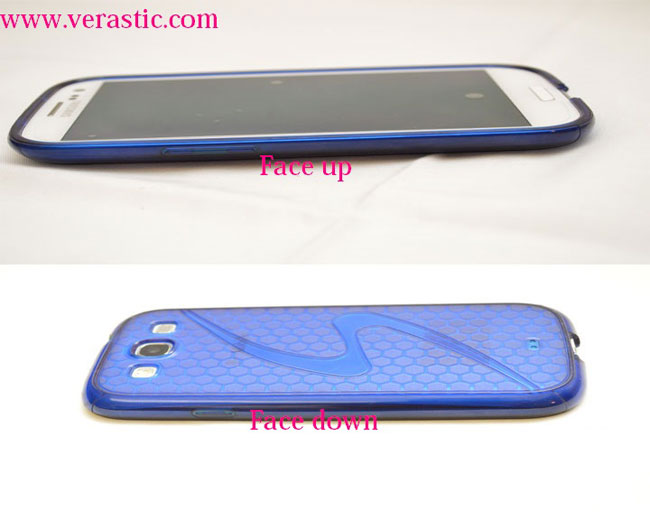 Face Up: This is the way everyone leaves their phone because naturally, we do not want to scratch the screen. Makes sense, right? I just took a quick glance at my phone which is where it usually is – sitting pretty next to me – and it's face is up.
Face Down: This means one thing and one thing alone: he's trying to hide whatever may come in. It could be a call (he doesn't want you to see the name of the person calling), or a text, or a picture, etc. You get the idea. And this, too, makes sense, no? Because I mean, why would anyone put their phone face down?
So what I am saying is, shine your eyes!! Pay attention. If he is putting his phone face down, then it means he definitely has something to hide. And if he has something to hide, then you need to run, not walk. But before you do so, read the second part of this post — right under the line.
__________________________________________________________________
Be that as it may (mom loves saying this), I do put my phone down religiously every night before going to bed. First, I put it on complete silence because I don't want it to ring or vibrate. Then I put it face down because I don't want the light to brighten the dark room when (if) it rings. Igwe also puts his phone down. I don't know if this is an iPhone thing or if Igwe just doesn't know how to set it, but his phone can only be on either ring or vibrate (unlike mine that goes on complete silence). And it always has this bright flashing light at the back when it rings or vibrates or even receives anything like text, alerts, etc.
So when it's night time, he puts his phone on vibrate. Then he has to put it on the carpet (because I don't want to hear the vibration), and then he has to put a pillow on it to kill the little vibration that may come through and to also kill the light. Even that aside, sometimes Igwe puts his phone face down (and it's not at night), just like he puts his watch face down, too. And it drives me nuts. I feel like he's ruining the face of the watch and the screen of the phone. He also puts his sunglasses face down sometimes, and I just cannot understand it.
What I am trying to say basically is that if you break up with an otherwise perfect gentleman for putting his phone face down because Vera said she read somewhere (she cannot even remember) that it's a sign he's a player, then all I have to say to you is …