It's been called the "wedding of the year" for good reason. The most eligible bachelor – who has also openly stated that he doesn't ever want to be married – actually met a woman that he couldn't leave. Their wedding was in Venice this past weekend with about 90 guests. Amal looked absolutely beautiful in all her dresses (perhaps a separate post about her outfits), and George Clooney wore custon Georgia Armani. Yes, he looked good, but it was all about the bride.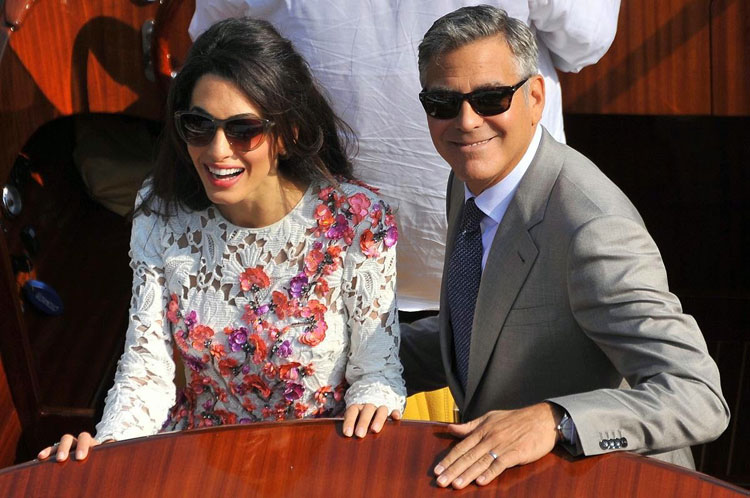 That being said, George Clooney and his wife, Amal Alamuddin need a lesson on weddings, as inspired by Nigerian weddings.
1.  George Clooney and Amal Alamuddin got married in Venice. This is unacceptable. A destination wedding should only be had in Dubai, maybe South Africa.
2.  They had only about 90 guests. Whatever happened to inviting your primary school friends and their housegirls and gatemen? And your friends, the ones that are actually your enemies?
3.  The ceremony was 30 minutes? Ridiculous!! You need to have 3 pastors who will all preach about what they believe to be a perfect Christian marriage. You know, the one where the woman must submit to her husband and always have his food read and never refuse him sex because someone else would give it to him.
4.  During the wedding ceremony, offerings should be collected. Tithes should be collected. And there should be Thanksgiving, too — where more offerings will be collected. Maybe some testimonies from the guests. Definitely an altar call for perpetually single people to sow a seed for a future spouse.
5.  George Clooney paid the transportation and accommodation for all his guests. Nonsense! Guests should pay for everything AND contribute to the couple's wedding.
6.  The guests should be required to wear asoebi (uniform fabric) of low quality and ridiculously high cost. And the couple should make money on it. Example, if the asoebi costs $50, it should be sold for $150. After all, who do you expect to pay for the wedding?
7.  Bridesmaids should be required to wear expensive shoes that are not at all comfortable to walk in. Or stand in. Or wear. And of course, the couple should NOT pay for it.
8.  Amal Alamuddin only changed once from her wedding dress to an evening dress she could dance in. Excuse, what happened to changing 4 times and keeping the guests waiting the entire time?
9.  Worst offense is the lack of a high table. So where did the Honorable/Chief/Dr/Pastor/Evangelist Chukwuebuka Godspower sit? At a regular table with all the peasants? Tufia kwa.
Congratulations George Clooney and Amal Alamuddin! But considering everything you did that you shouldn't have done … and everything you should have done that you didn't do, it's safe to say that you need to redo this wedding.
Gbam.