The COZA scandal is no longer news, and I rarely blog to give you news anyway. But this scandal is one that keeps on giving. Where is Olivia Pope when you need her? Every time I read an update on this story, I cannot help but wonder, WWOD [What Would Olivia Do?] Be still, Gladiators. Be still.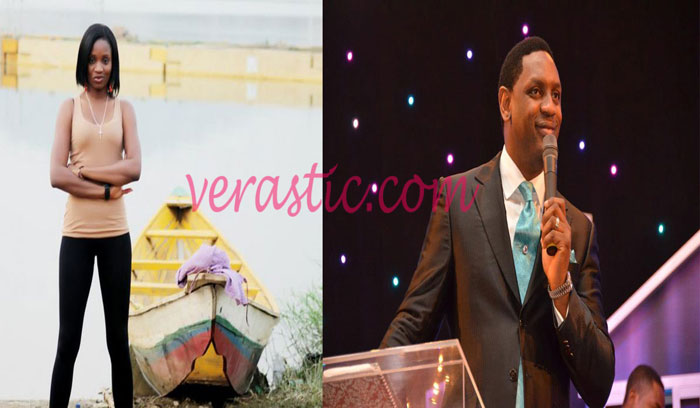 I find it rather interesting that most of the criticism  of this case (whether you're TeamEse or TeamPastor) is that the man in question is a Pastor. What about the fact that the man in question is a married man? Oh, I know, I know. Men will always cheat, right? That one is old news, right? E don tey wey yansh dey for back, abi? Pastor, as far as I'm concerned is only a job description. The only person that can say if you are a "Man of God" or not is God Himself.
About Ese: I applaud her bravery to come out and publicly tell a story like this, considering the country we live in/come from. Nigeria is a patriarchal society that by default, expresses the man and represses the woman. No matter which way this story is told, there will still be people who would label her the devil. That said, Ese is a grown ass woman. And as a grown ass woman, when a grown ass man tells you to meet him at his hotel room, your antennas should be fired up. Say, your antenna missed that sign, what about when a grown ass (and very married) man  tells you to sit on his laps?
According to Ese, on her blog: "While there, he sat on a reclining chair and asked me to come sit on his laps. This was a bit awkward for me and I froze for a moment as I asked why. He said he had told me to feel free with him and loosen up. I found myself strolling to sit on his laps. At that moment, I felt like a little girl who was experiencing something her mind couldn't fathom. He asked me to kiss him and all I could think about was seeing him preach on the pulpit back in COZA Abuja, Nigeria, which was my home church. He again said 'feel free Ese.' And asked again, that I kiss him.
A few hours later, let's just say, we were rolling under the sheets. It felt as though my mind had paused. I am not saying I was jazzed, (although it's possible I was in some trancelike state and didn't know it but I just was so afraid that I couldn't say or think otherwise.) That was the beginning of this affair. A sexual affair that went on for a little over a week, DAILY!"
The good thing is that at some point, she decided to call it off. The better thing is that she put her story up. I'm glad that she is at a point where she knows that people will condemn her and she doesn't care. I'm glad that she also acknowledges her wrong doing and doesn't.
About The Pastor: He said yesterday in church that He has talked to the Lord, and the Lord has told him to be quiet. If you believe this, then I've got a plot of land in Jupiter that I'd like to sell you. I may be coming at this from a biased point of view because I am suspicious of "Men of God." It is not that I don't believe there are men of God, but rather because (1) I do solemnly believe that I am equally a [wo]man of God, (2) The man of God is fundamentally still just a man, and (3) I don't trust men (human beings),  (4) I cannot vouch for the godliness and righteousness of anyone, and (5) I'd really rather go to Jesus. Only.
When a scandal like this erupts, there is only one of two things that should be said (1) I did it, and I am sorry, or (2) I did not do it, and I will be suing for libel, or worse case scenario even, (3) I have been advised by my attorney to not speak on this issue yet. Telling us that people (including big men in government) have called you and told you not to speak because they understand is utter nonsense, and saying that you have been told by God to be quiet is even more nonsense.
But here's what sickens me most: Even if Pastor Biodun were to admit to doing this and admit to more girls, and even say that he is not sorry, he will still have church followers, and people will still put all the blame on the women he slept with because they were sent by the devil to distract their holy Pastor.
We have a long way to go in Nigeria and as Nigerians. We worship our spiritual leaders and take their word, even over the word of the God they are supposed to be taking orders from. We have a society where the man is always the king of the castle, even if the queen is the foundation. Women are always seen as less than their male counterparts, no matter how much they have accomplished.
What needs to be done: Ese needs to provide proof of this affair. Call logs? Texts? E-mails? Pictures? Hell, give us a Facebook Poke. The Pastor has fans and worshipers who will never believe that their Pastor can be up to no good, so right now, it's her word against his.
Bottom line: Two consenting adults have indulged in a morally despicable act (adultery). Same shit. Different day.
P.S. Although I do believe that the Pastor is guilty, the reality is that this affair is still alleged — until Ese provides proof.
P.P.S. There is a report making its rounds about one Franca E who said that she was almost a victim of Pastor Biodun, and that she has proof. I blogged about it yesterday, but I cannot say for sure that the story is real. Someone might just be entertaining us, for all we know. Read the story here. To her – if she does exist, I say the same thing: provide proof.
P.P.P.S. What about his wife? How is she taking all of this?
UPDATE: The is follow up to this post about the bible verse, "Touch not my anointed," which a lot of people have been using as the reason to not question Pastor Biodun. Apparently, he's anointed. Who knew? Read HERE.