Do you. Among my favorite words, these two are definitely high up there. As I get older and more mature, I am learning more and more how important it is for me to do me. Do what works for me. I wish I could say that I have it all figured out, but that would be a lie. I'm still a work in progress.
I remember when I started blogging 10 years ago. At the time, the only other blogger I knew was the person whose blog introduced me to the wonderful world of blogging. I had tunnel vision back then, concentrating only on what I was doing – and it was easy to only concentrate on myself because I didn't know that anyone else existed.
Fast forward to several years later, and I have had several missteps, and if it'll be honest, some of them were inspired by other bloggers. I saw what other bloggers were doing, and I liked it, and because I liked it so much, I tried to replicate it, but it did not work out well for me because it was not my thing. It was me doing someone else's thing.
There is a Nigerian proverb that I love very much and keep close to me, and it says, "Whenever a person wakes up, that is the person's morning." And what it means is that different people begin their journeys at different times, but no matter when that time is, a beginning is still a beginning, and one should never compare her beginning to another person's beginning. The same goes for doing you.
Admittedly, doing you takes a little selfishness and a lot of confidence because you may question your decisions every day, but ultimately, you will be happier for it – as I have come to learn. We are all a sum of our experiences, and we all have different experiences. So our beliefs, values, and whys are all different. Back in April, I wrote about how TNT impacted my BlogHer experience. TNT has a new show coming out in November called Good Behavior.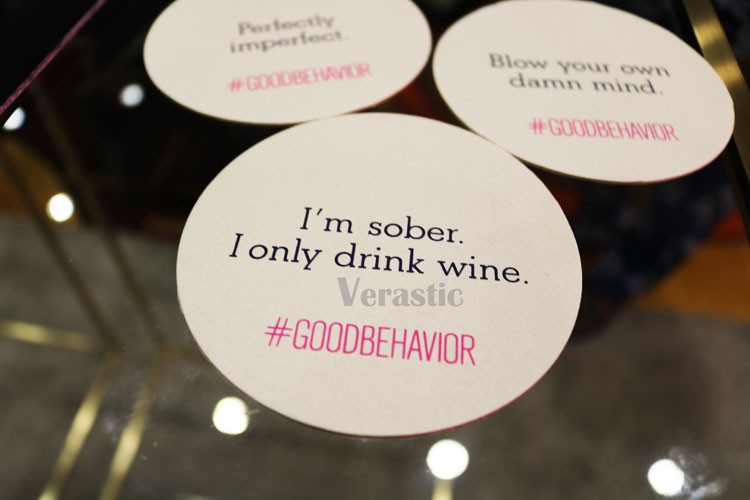 Fun coasters; can't wait to use them!
Good Behavior is about Letty, a thief and a con artist who is also a former inmate. You know those people who seem to always be one mess up away grom total implosion? Well, Letty is one of them. Letty is played by Michelle Dockery; you may remember her as Lady Mary from Downton Abbey, but this time, she's far from proper.
Fresh out of prison, the reasonable thing for Letty to do is stay out of trouble, but when she overhears the conversation of a hit man, she decides that she has to stop him from doing the job he has been paid to do. Because that's what all normal people do, right? Stop hit men from their jobs? But this is Letty doing her. This is Letty doing what Letty does.
While I will not be going on a journey to stop a hit man anytime soon (or ever), I will continue trying to learn how to better do me. Meanwhile, Good Behavior premieres with two episodes on Tuesday, November 15th at 9/8c PM on TNT. Connect with TNT online and on Facebook, Twitter, Instagram, and YouTube.
How do you "do you" in your life? Tell me in the comments for a chance to win a $100 Visa gift card!
Entry Instructions:
No duplicate comments.
You may receive (2) total entries by selecting from the following entry methods:
1. Leave a comment in response to the sweepstakes prompt on this post
2. Tweet (public message) about this promotion; including exactly the following unique term in your tweet message: "#SweepstakesEntry"; and leave the URL to that tweet in a comment on this post
3. Blog about this promotion, including a disclosure that you are receiving a sweepstakes entry in exchange for writing the blog post, and leave the URL to that post in a comment on this post
4. For those with no Twitter or blog, read the official rules to learn about an alternate form of entry.
This giveaway is open to US Residents age 18 or older (or nineteen (19) years of age or older in Alabama and Nebraska). Winners will be selected via random draw, and will be notified by e-mail. The notification email will come directly from BlogHer via the sweeps@blogher email address. You will have 2 business days to respond; otherwise a new winner will be selected.
The Official Rules are available here.
This sweepstakes runs from 11/1/16– 11/24/16
Be sure to visit the TNT Brand Page on BlogHer.com where you can read other bloggers' posts!