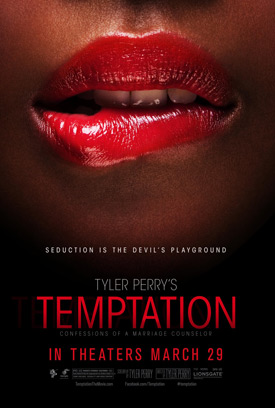 Remember last week when I put up a movie review about Tyler Perry's Temptation: Confessions Of A Marriage Counselor. Well, I was going through my Google Reader when I came across a post on Single Black Male. The author, Dr. J did not like the movie – who can blame him – and he listed five reasons for not liking the movie. One of the reasons was: "Tyler needs a lesson about rape."
Apparently, the first sex scene between Judith and Harley was rape. I. Did. Not. Know. That. Searching further, I see that Dr. J is not the only one who feels this way; apparently, a lot of people do, too. Even after reading several posts, I still don't think that Harley raped Judith.
Now, here's the part where I tell you why I don't think she was raped. This is also the part where I might get cursed out by the greater women folk (and the men who love them) for not loving my fellow women enough. But I stand by what I'm saying.
Reasons Why I Think Judith Was NOT Raped:
1.  Her resistance was alleged: You know that kind of resistance where you're verbally saying no and physically saying yes? That's what it was to me. It was like a stop-it-I-like-it kind of resistance. In the ideal world, that should mean STOP. In the real world, it doesn't. This kind of resistance is not the kind of resistance that a woman puts up when, say, her purse is being snatched, for example.
2.  According to Judith's memory, she liked it: When Judith had flashbacks of the sex she had with Harley, it was clear that she was enjoying it. Back arched, eyes closed, etc. I assume that women who are actually getting raped do not do this, nor do they have fond memories of the misfortune. I may be wrong.
3.  Actions always, always speak louder than words: When Harley started touching her and attempting to kiss her, she resisted (the way I described in number 1). Harley held her hands and said, "You can say you resisted," and what I understood this to mean was that she did not have to feel guilty about having sex with him. She could feel better by telling herself that she at least tried to resist. After he said this, she stopped resisting. Critics say that it was still rape because she did not nod her head or say yes. Come on now! That only happens in the ideal world. In the real world, ain't nobody got tahm for that.
4.  Women always know: Women, whether we know it or not, are very intuitive. When a man is sexually attracted to us, we have a clue. We may not know the scope of this attraction, but we have a clue. In Judith's case, she did not need a clue as Harley had said it over and over. Judith was also attracted to him, and she knew it, too. The sex did not happen just because Harley wanted it; Judith wanted it, too.
5.  Her look was not due to rape: When Harley dropped Judith back off, her mane was scattered and she looked tired and angry and run through – pun intended. She looked at him with "disgust and disdain" (according to The Frisky) and told him that she never wanted to see him again. Yes, she told him that, but contrary to the author on The Frisky, it was not because she was raped. I think she told him that and looked at him that way because she was disgusted at her own self and shocked to know that she – yes, even she – was capable of doing what she just did.
6.  Before the rape: Piggybacking off of number 3, nothing that Judith did before the alleged rape suggested that she was not interested in an affair. Unless I'm in the wrong career, I have never seen a job where it is appropriate and normal for you to travel with your client – who is very sexually attracted to you – for a business presentation, and then, after the meeting, you two gallivant the entire city together, ride on horse carriages, eat ice cream, sip some bubbly, and hand feed each other. These are not the actions of a married woman who is not interested in an affair. Now, I am not implying that doing any of these is a signal that you want sex, but it definitely isn't a signal that you do not want something.
7.  The follow-up: Should we completely ignore that after the sex, it was Judith who followed up with Harley? She called him (while her husband was right there, by the way). She watched him every time he came to her job. And she also showed up at his house unannounced (and had more sex rape in the car). I realize that SVU isn't real life, but I don't think I remember seeing a rape victim who chased down her rapist to get more of the action. Again, I might be wrong.
I realize that Tyler Perry's movies are not the epitome of good movies, no matter how you stretch the word. But I don't think it's fair to say that he – especially considering his personal experience with sexual assault – has a problem with rape. Yes, the movie was not the best movie, but we shouldn't attack Tyler Perry's character over a bad movie.
I'd really like to know what everyone else who watched this movie thinks about the alleged rape. Was Judith raped by Harley?