Nah Uh. Nope. No. Net. Nahīṁ.  Mba.
Monica Lewinsky who has been silent since the scandal 16 years ago (except her recent feature in Vanity Fair, which of course, I also blogged about). She was at the 30 Under 30 Summit held at Forbes in Philadelphia two days ago giving her first speech, and of all things to talk about, she chose cyber-bullying because according to her, she was Patient Zero, the first victim of cyber-bullying. Let's talk about some of her talking points.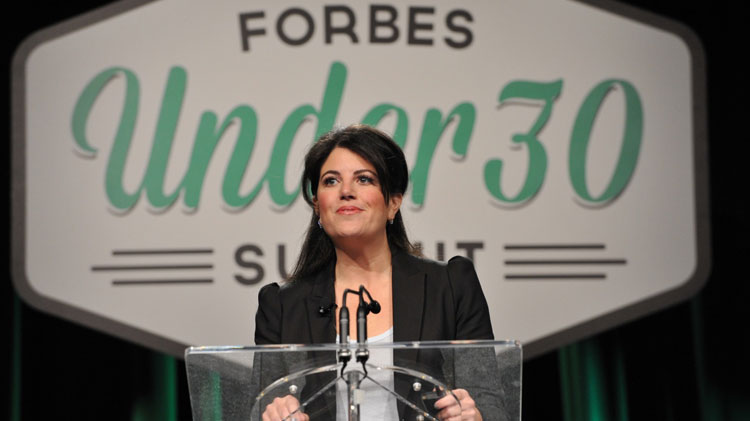 1.  "Sixteen years ago, fresh out of college, a 22-year-old intern in the White House — and more than averagely romantic – I fell in love with my boss in a 22-year-old sort of a way. It happens. But my boss was the President of the United States. That probably happens less often." – I don't know what it means to fall in love with your [married] boss in a 22 year old sort of a way. Is this different from when a thirty year old or a forty year old or a fifty year old falls in love with her married boss? Because I'm thinking that in all cases, she's still the morally bankrupt side chic.
2.  "But back then, in 1995, we started an affair that lasted, on and off, for two years.  And, at that time, it was my everything. That, I guess you could say, was the golden bubble part for me; the nice part. The nasty part was that it became public. Public with a vengeance." No, Monica, the nasty part was that he was someone else's husband. Would the golden bubble have continued if it didn't become public?
3.  "Overnight, I went from being a completely private figure to a publicly humiliated one. I was Patient Zero." – Stretch the word as you see fit, but there is absolutely nothing private about secretly sleeping with the President of the Free World.
4.  "Let me tell you about being publicly separated from your truth. And I mean publicly in the broadest sense, because we all have our publics." – The truth, Monica, is that you slept with a married man. You don't get to sleep with a married man and then turn around to try and convince us that that part of your life actually isn't your truth. We don't care about YOUR truth. We only care about THE truth.
5.  But these are all just words. What does it actually feel like? What does it really feel like to watch yourself – or your name and likeness—to be ripped apart online?  Some of you may know this yourself. It feels like a punch in the gut. As if a stranger walked up to you on the street and punched you hard and sharp in the gut." – Yes, let's all gather around and think about what it felt like for you. Who cares about the wife who was cheated on? Or the child who had to watch television everyday and hear how badly her father hurt her mother. But please, tell us again how you felt.
6.  "We are all vulnerable to humiliation, private and public figures alike. (I'm sure Jennifer Lawrence would agree with that. Or any of the 90,000 people whose private Snapchat pictures were released last week during "the Snappening")" – So you're comparing yourself to people who were minding their business when hackers came and exposed their personal information?
7.  But there are those who say, Monica, why don't you just shut up? Why don't you just go away? They said it in June, after a piece I wrote in Vanity Fair, my first public words in over ten years. And they will say it today after this one, my first major public talk, ever, and they will say it tomorrow and the day after that. "They" never shut up." – No, Monica, it's not THEY that never shut up. It's YOU.
If I sound like I'm judging her, it's because I am.  She keeps saying she was 22 as if 22 years olds have no thinking faculties. She was an adult, and she made the conscious decision to sleep with the married President of the United States. This is the problem today: we are eagerly ready to accept anyone and everything, all in the name of not hating, and being human, and being American, but there is right and there is wrong, and what Monica did was damn wrong.
While she was sucking him (and saving her sperm-stained dress), was she thinking about the internet or the people on it? No, she was not. She liked the sex and she swallowed all she could, but God forbid we dare to talk about how messed up her actions were? Did she think about Hilary? Did she think about how destroyed she would be when she finds out? Okay, then.
Just to be clear, the person with the biggest blame in all of this is Bill Clinton. I don't even care to know what was happening or not happening in his marriage. I don't care if Hillary wasn't giving it to him good or if she refused to go down on him, he was still married. He had no business having an affair with anyone.  I cannot imagine the backlash and disgust if he were to decide to show up now to tell his story?
Monica wants us to forget the reason why we even know her in the first place. The different between her and Bill Clinton is that even before the affair, we knew him as our President. At the most, we knew Monina as a White House intern — we started knowing her as the girl who sucked the President. But she wants us to forget that and focus instead on her being a victim of cyber-bullying. While I am all for the stop-cyber-bullying cause, Monica, in my opinion is doing the cause a huge disservice. We can't focus on cyber-bullying when Monica Lewinsky is speaking.
If she wants to start/support a cause, she should consider a 12 step program (or a support group) for Side Chics Anonymous. I know I ranted. I just get so irritated by things like this.