No, not me. I told you about how my aunt went from being a nurse in Nigeria to being a nurse in America, thanks to Kaplan. Now, I want to tell you about what a typical day in the life of my aunt is. I know this for sure because I lived with her for a couple years.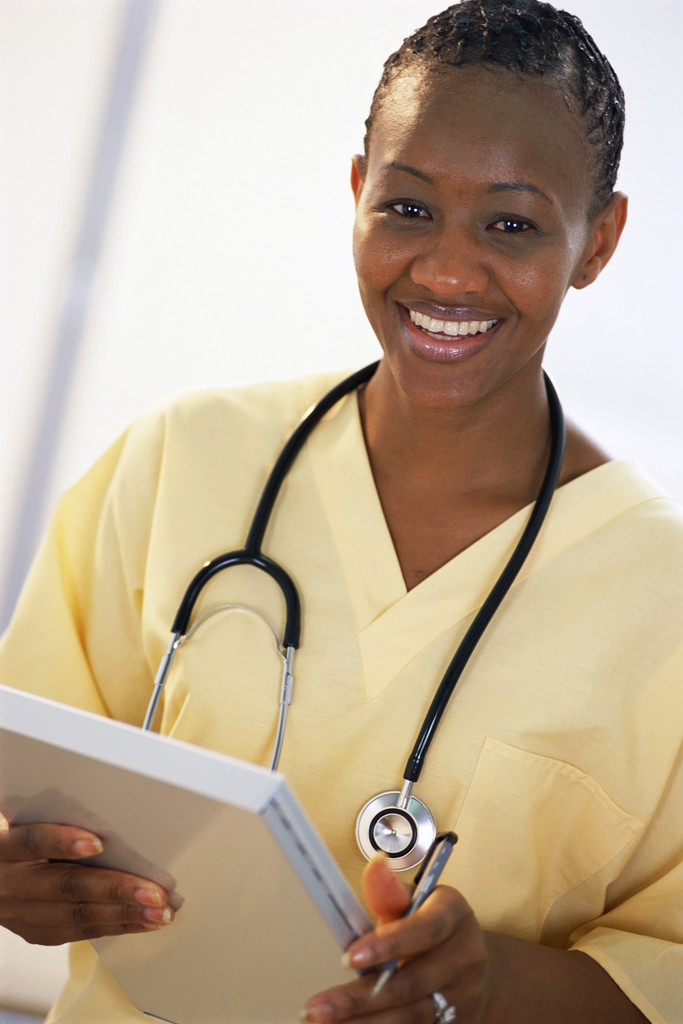 Nurse who looks like my aunt, but isn't her… (Image source: Microsoft Word)
My aunt works from 7am to 3pm because it is the schedule that works best for her and her lifestyle. When she first started working, she used to work from 3pm to 11pm, but she soon realized that it wasn't the best option for her. She chose that time because it afforded her the luxury of not having to wake up early and be able to start her work day in the middle of the day. This way, she could also run whatever errands she needed to run in the morning, like banks and post offices–places that would be closed by the time she got off work at 11pm. But my aunt soon realized that working at 3pm defeated the purpose of sleeping in late because she still woke up early to get her son ready for school. And by the time she came home from work at 11pm, he would be sound asleep. So she decided to change her schedule to start from 7am and end at 3pm. This way, she would be home by the time her son and husband get back from school, and they would be able to at least have dinner together.
 Typically, my aunt's day would start at about 4:45am when she and the entire family would wake up to pray together. Then everyone would dash off to their respective bedrooms and/or bathrooms to go get ready for work and school. At about 6am, everyone would reconvene downstairs for breakfast, and by 6:40am, my aunt would be dashing off to work, leaving her husband and son (and me) at home.
Eventually, either I or her husband would walk her son to the bus stop and wait until the school bus picked him up. After my aunt gets off at 3pm, she would either come home straight or stop at the grocery store to pick up one thing or another. Most times, it was milk, bread, and/or juice. Sometimes, she'll cook dinner when she comes home. Other times, there would already be food in the fridge (or we'd order out).
Three days a week, she would attend a cycling class at the close-by gym and she would be back home at about 7:30pm.  Sometimes, she would entertain us with stories of one interesting patient. And sometimes she would tear up talking about one of her patients and what he/she is going through. Then she would remind us to always remain grateful for every single thing we have because someone somewhere is satisfied with less than what we have.
Whether you're seeking further success in your current role or a new opportunity, Kaplan University can help you prepare for the exciting possibilities ahead.*
As an accredited university built on more than 75 years of experience,† Kaplan University offers a wide range of career-focused programs designed to develop the skills and knowledge leading employers seek. Our focus: to offer you the most direct educational path to achieve your goals.
Are you ready for a change? Learn more at kaplanuniversity.edu
* Kaplan University cannot guarantee employment or career advancement.
† Kaplan University is regionally accredited. Please visit http://www.kaplanuniversity.edu/about/accreditation-licensing.aspx# for additional information about institutional and programmatic accreditation.