The show has been off since end of July, so we rested for the entirety of August, and today, we're coming back on air. My producer, Benny is ready, too, and he has the muscles to prove it. I'll be co-hosting with Eche [find him on Twitter here]. If you know Eche, then you have an idea of how he is. He speaks his mind, whether you like it or not.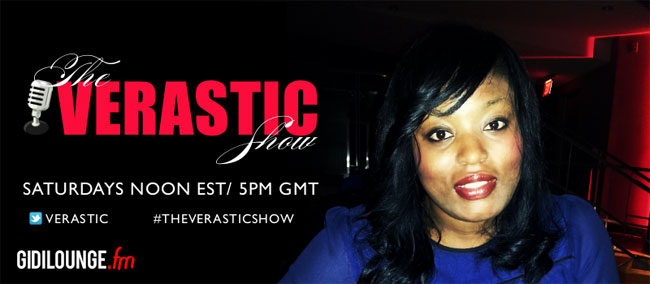 We will be talking about pastors and their worshipers. Yes, yes — inspired by Ese Walters and her affair with Pastor Biodun Fatoyinbo of COZA, but the show isn't about them. Eche has very unconventional and unpopular views about religion, which is why I figured he'd be the best person to come on and say it as it is. This should be fun. Also potentially dangerous. Who knows what Eche will say?

If you don't have the gidilounge app yet, you're on a very long thing. But fear not, we can change that. Just go to your iOS and/or Android mobile devices and search for Gidilounge. Sorry Blackberry.
Time: 12PM EST | 5PM Nigerian Time | 5PM GMT
Where: www.gidilounge.fm (or on your Gidilounge app)
How to call in: 1.866.566.4434 or call Gidilounge via Skype
Hash tag for the Twitter convo: #TheVerasticShow
Follow on Twitter: @verastic
Interested in co-hosting? E-mail: radio@verastic.com
Talk to you very, very soon! In exactly 10 hours.