Two days ago, the Williams sisters landed in Nigeria for the Breaking The Mold initiative which is supposed to encourage girls to reach for the stars, regardless of their background and all that good stuff. Yesterday, there was an event held at Ikoyi Club. Apparently, during the event journalists were asking questions. And this is normal, of course, unless if this is not the kind of event where questions should be asked.  Considering that I am not in Nigeria and not even knowledgeable on exactly what went on there, I am typing this solely on what I understand to be the issue.
So Jon put out a tweet, "NIGERIAN JOURNALISTS: ASK QUESTIONS AT NEWS CONFERENCES. NO ONE CARES ABOUT YOU. WE ARE HERE FOR TENNIS STARS. Thank you."  And to this, my people were angry. One Saratu person even replied and said, "My mama cares about me. Jerk."
Should I ask right now if Saratu is a Nigerian journalist? Or shall we save that for later?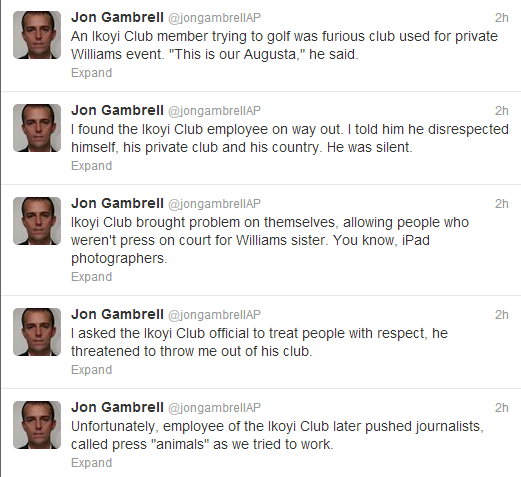 Read these tweets starting from the very last one (the oldest) to the top one (the newest). Like I mentioned earlier, I was not there (I'm still in Maryland, USA), but what I can deduce from Jon's tweets is that the Nigerian journalists were asking the wrong questions at the wrong place and time.
According to Jon (and some other people also tweeted about it), one of the Nigerian reporters asked the sisters if they are from Badagry.  Seriously? No. I mean, seriously???  The Williams sisters … from Badagry? Should reporters not know these things? They do not have to know the specifics about where the girls are from, like their State or their County. But knowing that they are not from Badagry is probably crucial.
Now, let's examine "Exhibit 3," which may also be referred to as tweets from Tomi Oladipo, BBC Correspondent. Read the tweets from the bottom up.
Perhaps, people are angry because Jon Gambrell is white. It's weird that I can tell he's white, right? So, yes, perhaps, as a white man, he is not allowed to state the obvious in Nigeria – though he lives and works in said Nigeria. He's supposed to just smile through it and say how absolutely fabulous the Nigerian press is. But what about Tomi Oladipo? He's a little black. And a little Yoruba, too. Possibly even a little Nigerian.
Contrary to popular belief, there is such a thing as a stupid question.  Walahi, I am not lying.  Having attended a question-and-answer event (not exactly a press conference) with Nigerian people, I know what it feels like when people ask stupid questions, and when people ask questions preceded by five-minute long speeches that confuse everyone, including those asking the questions.
So, I have to ask, what is it exactly that my people are vexing for?
If you're interested, find Tomi Oladipo on Twitter, Jon Gambrell on Twitter, and of course, one Miss Vera Ezimora has sneaked through virtual security and also made it on Twitter.