Igwe alerted me to news that was trending yesterday about three allegedly gay men in Imo who were stripped naked, beaten, and paraded around for everyone to see. You know, there is a lot of crazy shit that goes on in Nigeria and I don't blog about it, not because of lack of interest, but because of frustration and extreme pissitivity (not a real word). But now that I think of it, I think I need to be more vocal. Not being vocal definitely isn't helping anyone.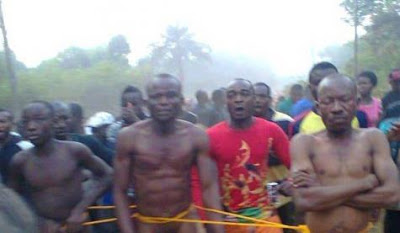 We, Nigerians – and I am speaking generally, of course – have a knack for ignoring the real problem and focusing instead on everything that does not actually affect us. Tell me, how does a person's sexuality affect someone else? When two consenting adults decide they want to have sex with each other, tell me, how does it affect you?
Oh, wait, let me guess: it's a sin? You're a Christian? It's unnatural? It's western? It's devilish? It's against our culture? Against our beliefs? Against our morals? It's ungodly? It's the reason why God destroyed Sodom and Gomorrah? Sure.
While this would be a good time for me to tell you to remove the plank from your eye before removing the speck from your neighbor's eye, I will not say it. Now, take a good look at the people who are around these allegedly gay men (including the guy in the red shirt); look at the people who are parading them and "shaming" them, and tell me which one of them looks like he has his life together?
What I see is a bunch of poor people with misguided and misplaced priorities. Instead of trying to do epic things, instead of trying to make a name in this big, bad world, and instead of trying to make some money to make tomorrow better, they are busy running after men sleeping with men – allegedly.
Even if you caught these men in a threesome … so bloody what? Is it your asshole getting drilled? Or is it your penis doing the drilling? Or is it your husband doing it? No? Then back the fuck off. Leave people to live their lives. Let adults do what they want to do with each other and to each other, as long as they are not hurting anyone. I am stressing the word "adult" here because letting people sleep with who they want to sleep with does not include grown ass men sleeping with kids. That's a damn shame.
In a country like Nigeria where there are only rich and poor people – no middle men – we should be worried about our lives, our greedy government, and our completely failed system. How can we be worried about men sleeping with men? Off the top of my head, I can list ten things we should be thinking about instead:
1.  Most of the people who have appointed themselves as our leaders are not fit to lead themselves.
2.  There are people who live under the bridge.
3.  Our uncles and aunties are sleeping with our children.
4.  People are so desperate for money that they are killing their friends and family.
5.  There are people who make N6,000 a month. And they are considered rich by those who make nothing.
6.  Our policemen are our enemies. They are glorified gate men.
7.  Our teachers are getting dumber. Or maybe they are just reacting to being underpaid and overworked.
8.  Our roads are death traps endorsed by the government.
9.  There is no law and order, and our constitution is a fairy tale novel.
10.  There are now only two jobs to have if you want to make it big very fast: you can either work for government or become a pastor.
These problems are only a tip of the iceberg. So tell me, what do we call it, if not that people are taking Tylenol for other people's headache? I ask again, if your asshole is not the one being drilled (and your penis is not the one doing the drilling, and hopefully, not your husband's either), then why do you care who is fucking who?
P.S. Beating a person and parading them naked around town does not undo their gayness – if they are gay.