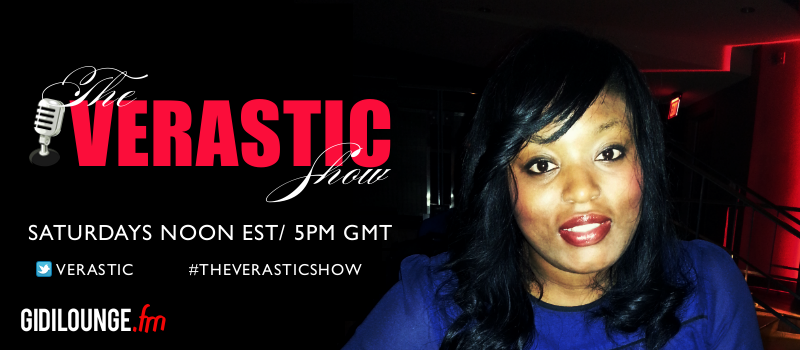 Listen: www.gidilounge.fm 
Time: Saturday, 12PM U.S. Eastern Time / 5 PM GMT Standard Time / 5PM Nigerian Time
Call In Live: 1.866.566.4434
E-mail: radio@verastic.com
So what exactly is this verastic show about? The Verastic Show (formerly called The Verastically Speakin' Talk Show) is the only show that is relevantly aware on all levels of ly: social-ly, political-ly, spiritually, financially, sex-ly, mental-ly, educational-ly, motivational-ly, moral-ly, satirical-ly, entertainment-ly, gossip-ly, multiple orgasm-ly, family-ly, career-ly, relationship-ly, musically, trending-ly, random-ly, humor-ly, emotionally, intellectual-ly, healthy-ly, current-ly, thought provoking-ly, Nigerian-ly, and of course, verastical-ly. And it does all these while being unnaturally, inconceivably coherent.
The Verastic Show debuted on the 23rd of June 2009, and since its debut, it has had hundreds of co-hosts from in and out of America and has been listened to more than 50, 000 times — and still counting.  The show has attracted listeners and callers from different countries, including but not limited to Canada, the United States of America, Australia, Cyprus, Nigeria, South Africa, Ghana, Germany, Saint Kitts and Nevis, Poland, Italy and the United Kingdom.
The Verastic Show always has intriguing shows lined up for your listening pleasure, and co-hosts are also always needed.  To find out what great shows are lined up, or to be a Verastic co-host, please contact me.