I regrettably don't have pictures of the bride and groom. Sorry. I explained yesterday that I couldn't take pictures because of where we were seated. Anyway, my weekend was pretty much same ol,' same ol, except Saturday, the day I MC'd. I spent Friday trying to rest for a Saturday, and I spent Sunday trying to recover from Saturday. Funmie was my plus-one to the wedding, and she almost made me go late. Reason number 64914727 why Igwe is my favorite companion.
The wedding was in Bethesda, Maryland, more than an hour away from me. Let me tell you, I have never MC'd an event where even as of the event day, I am not completely sure what I'll be wearing. But that was exactly the case this time. I ordered a dress that was too big, so I returned it and ordered another one. That, too, came in too big, so I returned it again. I was about to order the third dress when I noticed that it was backless. Backless, ke? As in, my bra will be visible? Or worse, I won't be able to wear a bra? No, no, no. Women with boobs the size of mine don't go 'round wearing a backless dresses with no bras. Or do they? Share the secret, please.
Since I couldn't buy a new dress, I decided that I would reward myself with new shoes. I searched high and low and couldn't find anything worth buying that I liked — and could be worn with the traditional dress I decided to wear. Normally, I'd buy a pair of shoes just because it's a color I don't have and at a good price, even if I am not particularly crazy about it — which is how I ended up with a closet full of clothes that I don't want to wear. Well, no more! From now on, it must be love at first sight (or try).
Oh, let me tell you about our fashion disaster. The dress I wore was given to me by Igwe. He had it made in Nigeria and brought it here for me, but I don't know what it is about Nigeria-made clothes that make their zippers pop. To be safe, I went to the wedding with a blazer (I didn't wear it) and an extra dress. I had to be very prepared. Remember I told you we were going late? Well, just as we were about to leave, Funmie's zipper popped. Yes, her dress was made in Nigeria. So she had to scramble to change quickly. Good thing it happened at home.
The wedding was beautiful. Lamide and her husband, Segun couldn't have looked more in love. It was an honor hosting their wedding. A lot of people actually came up to me to say that I was doing a great job, and that was very, very encouraging. I also met some listeners of The Verastic Show who came all the way from Canada. Hi ladies! Funny, one of them said she recognized my voice from the show. You know what that means, right? It's time for me to release an album. Duh.
Time for the very few pictures
I don't really like bathroom pictures, so I apologize for posting this, but Funmie was just falling my hand. All the pictures she took of me on my camera were weird-angled or had bad lighting, or something else. So when I went to pee, I decided to try this. I was just trying to capture the dress. It doesn't show the shoes, but they were pink, the same color as the belt. I felt like a bag of skittles.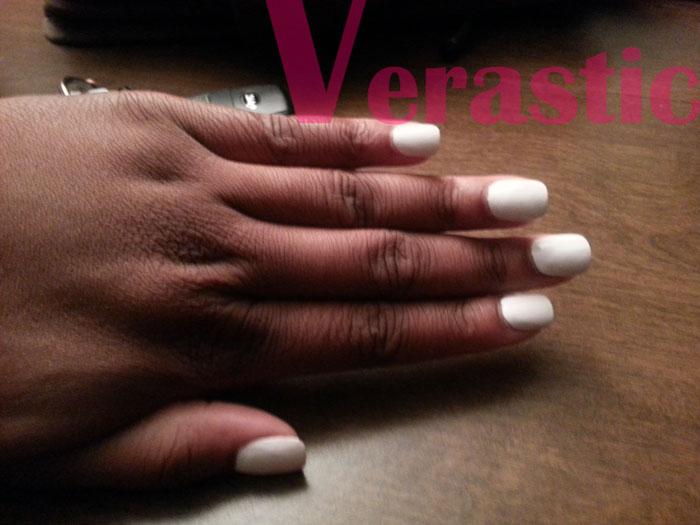 The picture was taken a day before the wedding [Friday]. First time doing white, and first time cutting them so short, but I am happier for it. I really, really loved having my nails very long, but they were beginning to affect my quality of life. It was literally taking me like three minutes to button up a shirt because my fingers couldn't grasp the buttons. Typing on my computer was taking me way longer, too. Worse than that, I was making so many typos while texting.  That was where I drew the line. I think I'll do short nails more often. Life has been good!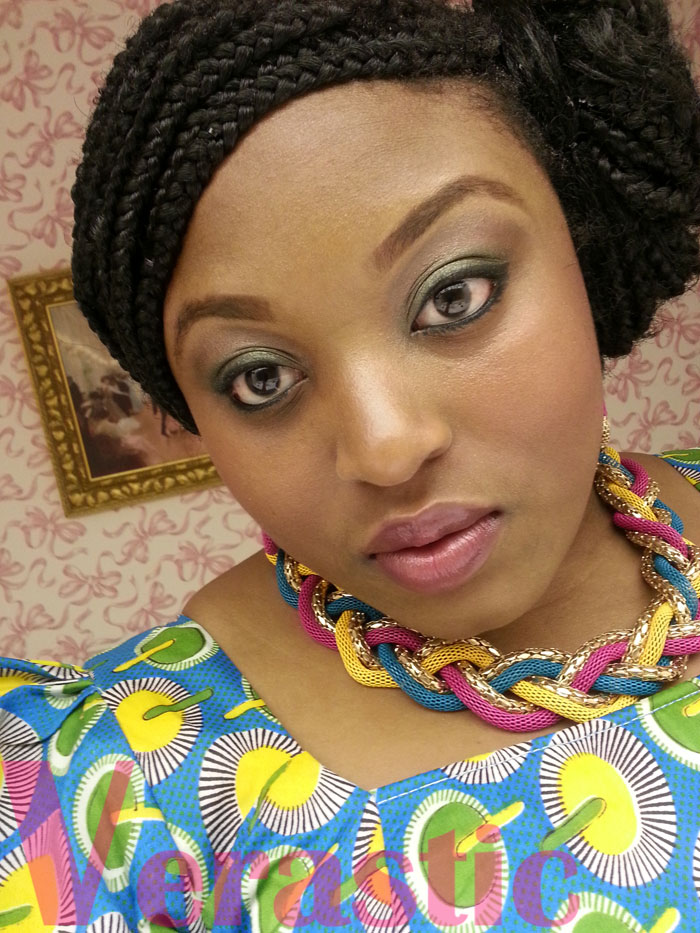 My favorite picture of me from the wedding — and I took it myself. I'm proud of my phone for the clarity in this picture. No flash. No filter. If you look closely enough, you might be able to count my pores.
So, that was my weekend. How was yours?
P.S. I'v been receiving compliments on the makeup. Thank you! Someone asked me about tips – don't remember via which social network – but I just wanna say that I cannot give you tips. I only know how to make my face up. I don't even know if I'm doing it the way the pros say we should. I just play in my makeup and somehow, I end up not looking like a clown.
P.P.S. Of course I'm available to host your event. When is it? *shameless plugin*