This actually happened a while ago, but I forgot to blog about it. So I jejely woke up in the morning to take a shower and go to work, only to realize that we had no light. It had been raining heavily the night before. I knew as soon as I woke up that there was no light because the cable box wasn't showing its orange time-telling digits as usual and the digital clock on Igwe's side of the bed wasn't showing time either.
So I thought to myself, I'm a Nigerian girl nah … I will not be fazed by NEPA taking light. Na today yansh begin dey back? I strolled into the bathroom confidently. It was dark, but I could use my hands and feet to feel around till I got into the bathroom. When I turned the faucet to brush my teeth, the water was cold, but I managed through. After that, I went into the tub to take a shower. I expected the water to be cold since there was no electricity to heat it up, but I didn't care. After all, I spent one whole semester in boarding school (when I was in JSS1), and I showered with cold water. Kini big deal?
My people, as soon as a drop of that ice cold water touched my feet – my feet alone o! Not even the rest of my body- I ran out like I was being chased. Forget being Nigerian. This chill of this water went into my bone marrow. It was winter when this happened, and you know we had a brutal winter this year.
So, I began to think … what to do, what to do. For starters, I needed some kind of light because taking a shower in the dark wasn't looking like fun either. I didn't have any big candles, so I had to get creative with the tea light candles I usually use to burn fragrance oil. One little tea light candle wouldn't make much of a difference, but what about 12 tea light candles?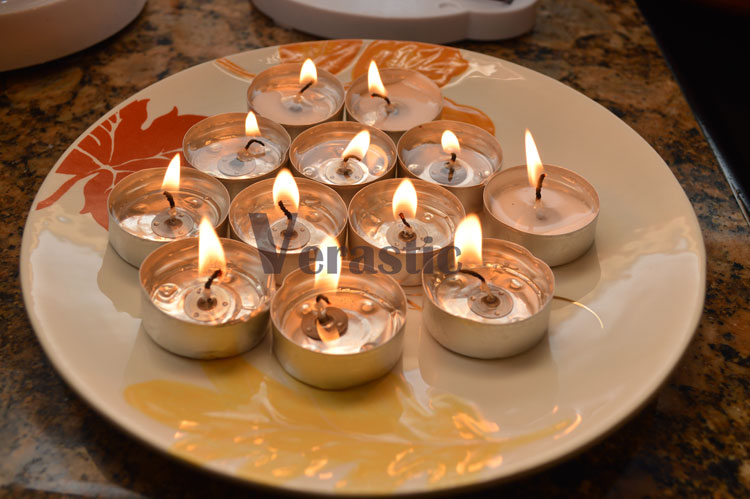 Next step: how do I get warm water – even if just a little bit – to take a shower? I couldn't warm water on the stove because our stove is electric, and I could not use the microwave for the same reason. Then I remembered that about a decade ago when I opened a bank account, I was giver a mini charcoal grill as a gift. The grill is really tiny and would best be used during a picnic for two. But on this particular day, it was going to be a stove. Watch and learn.
I painstakingly lighted even more tea light candles – as many as my itsy bitsy grill could hold. Then I put the pot on it. I knew it'd take a long time to get warm, and I was okay with waiting. I wasn't even trying to get the water to boil, and the water was so small that I didn't even know for sure what I would do with it once it did get warm.
As soon as I set the pot on the grill, NEPA BGE brought the light back. Just like Nigeria. After you have interrupted your sleep to turn on the generator, the light comes back on. When you go turn the generator off, the light goes off again. Luckily for me, the light didn't go off again. At this time, I was already going late to work, but first, I had to take a picture for my Sweet Potatoes.
While being Nigerian didn't help me with taking a cold shower, maybe it did help me with creating a makeshift stove? Whatever the case may be, I have never loved my hot shower so much.