This past Saturday, I went to the shooting range with Igwe, Kay, and Kay's younger brother, Chris. He (Chris) just came from Nigeria last week.  Anyway, we had been planning this event for a while, and finally, after the show on Saturday, we went off to Continental Arms to go shoot some targets.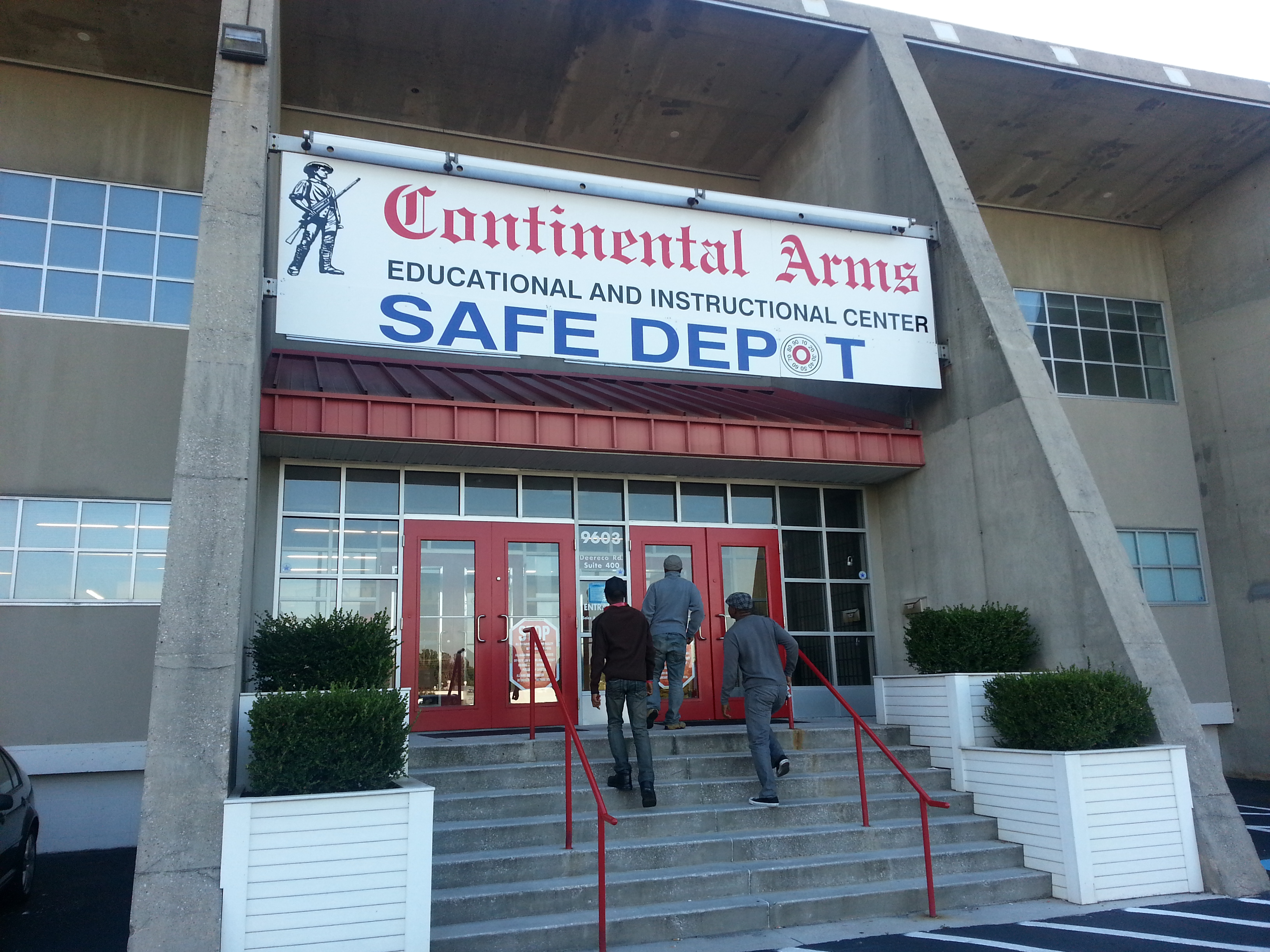 That's Igwe, Kay, and Kay's brother, Chris, heading into Continental Arms
Before we even left the house, Igwe kept talking about how he was going to do this and do that, how he was going to beat everyone's records, yada yada yada. In the shooting range, he was jumping up each time someone fired a shot. And by someone, I don't mean one of us. I mean the other people that were in their lanes minding their own guns and bullets.
We shot a 9mm gun. I now know how to load bullets, lock the gun to the rear, and release the thingy that holds the bullets. I don't remember the official name of the thingy. I know all this because Kay trained us well. He is a veteran of war; he fought in the Iraq war. Two thumbs up and special love for him and all our military men who risk and lose their lives so that we may have freedom.
I took several head shots at this target's head before I realized – thanks to Kay – that we were actually not allowed to take head shots. I don't know why, but that's the rule. The stupid thing is that I read the sign that said, "Absolutely No Head Shots Allowed," but I interpreted that to mean that we were not allowed to take picture head shots. In retrospect, I realize now how silly my interpretation was. Don't judge me.
So as I was saying about Igwe, after all the talking, he went there and started shaking. I'll admit, shooting isn't half as easy or as fun as they make it seem in movies. The gun is heavy. Each shot surprises and shocks you. And the gun has so much power that each shot pushes you back a bit. Those bullets happen fast. Push the trigger a bit and a bullet leaves. I don't know how many nano seconds it takes, but shooting at that paper target made me think about the pain of getting shot.  Guns are not toys. They shouldn't be carried or handled like toys. They kill. I know people know that they kill, but do people really know that they kill?
Still, I beat Igwe, and I want the world to know that – or at least, just my Verastic readers. We couldn't take pictures of ourselves because it was forbidden – not their exact words. But I had already taken these pictures of the guns before I realized that we were not allowed to take pictures of the guns either.
The reason why I have named this post, "This Time, I'm Off To Afghanistan," is because the last time I went to a shooting range two years ago, I said I was going to go to Iraq to use my new skill of shooting. And I would have gone if it were not for Obama ending the war in Iraq. Darn! You can read that post here.
So that was my weekend. How was yours? Yes, of course, I do realize that we are almost in another weekend. It's not my fault that the week flies by.
P.S. When we came home, Kay made us throw all our clothes in the laundry basket and take a shower – not all together – because of the lead from the gun/bullets. What?! We did not know this when we went shooting in 2010.
P.P.S. In the lane next to us, a man and his two young sons – about 10 and 12 years old – were shooting rifles. Rifles!!! And there I was, a twenty-something year old struggling to shoot a 9mm gun. Sure, I was better than Igwe, but I was still struggling. Watching those little boys shoot was quite entertaining.