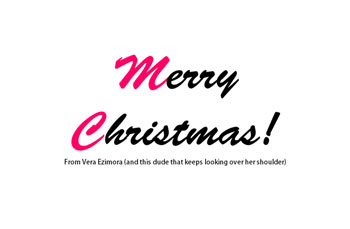 I cannot believe it's Christmas Day. No, seriously, like how did that happen? Feels like we just got into 2012, and now we're celebrating Christmas again, which only means one thing: 2013 is next week! I'm remembering what Christmas last year was like, and while I don't remember the exact events that took place, I do know that I am at a different place.
As I type this now, I don't have any grand plans for Christmas. I don't know if we will visit anyone, or if we'll sleep the day away, or if we'll watch TV. I don't know. There's so much pressure on Christmas Day to be fun and memorable. And sometimes, it really is just another day.
For now, I'll spend the day reflecting and planning for 2013. And being thankful, of course, for the reason for this season. And I'm wondering now as I type this, did I do anything this year that may have contributed to someone having a better day, a better month, or even a better year, even if it's just a broader smile?
Merry Christmas to you and yours. Igwe says Merry Christmas, too.