If you watched this week's episode of Verastic Life, then you would have seen that Igwe's mommy is in town. Thank you for all the kind comments. After reading the comments, I realized that I was not very clear. Igwe's mom isn't here to visit; she's here to stay. Since her arrival, I have been living like royalty, sleeping and waking as I wish because I finally have help. And help is good.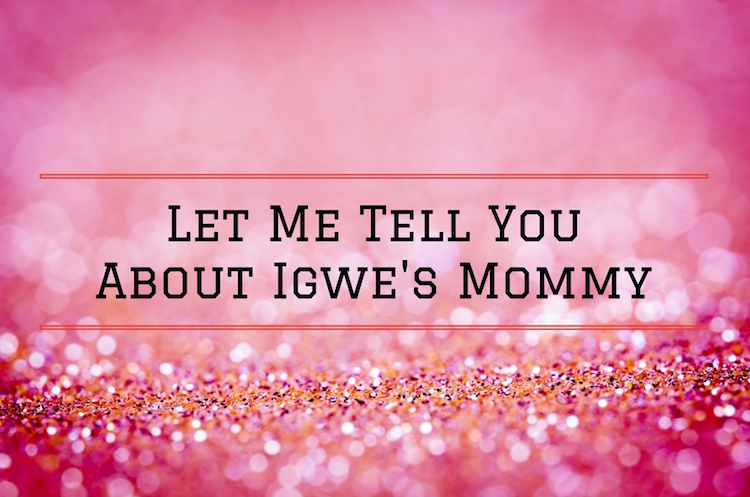 But today, I want to tell you about Igwe's mom, little, funny, and entertaining things about her, in no particular order:
1. Coming to America was her first time out of the country and her first time on a plane. She told me a funny story about when she was about to board the plane in Nigeria and how she mistook the plane for a tanker.
2. Every time Ada Verastic coughs, Igwe's mommy says Kai!. I don't really understand why she does it, but I find it funny. For each cough from Ada Verastic, Igwe's mom responds with a vibrant Kai! And Ada Verastic enjoys her response, so she continues to cough – fake coughs, this time – and there are more Kais flying around.
3. She won't stop calling me Ma. I have begged and pleaded and cajoled that she stop calling me Ma, but all to no avail. I'm not even comfortable with people younger than me calling me Ma, so I'm very uncomfortable when my mother-in-law calls me Ma. It's a funny conversation when we're both saying Ma to each other. How many Mas do we have nah?
4. She also won't stop calling me Mommy Fisayo. Fisayo is not Ada Verastic's official name, but it's the name that Igwe's mommy gave her, and it is the name that she calls her. Before Ada Verastic was born, she used to call me Olori (Queen) and Iyawo Mi (My Wife), but since the birth of Ada Verastic, she's been calling me Mommy Fisayo. Olori is just so much cooler, no?
5. She converts every dollar amount to naira, and then, she screams at the amount, and in this Buhari economy, the shock of the conversion can change your blood group. In her defense, however, we all did this when we first got to America. In fact, after I returned from Nigeria in September, I converted every dollar amount to naira.
6. English isn't her first language, but she's determined to learn English, although I have told her that she speaks enough and we communicate effectively. In her quest to be a better English-speaking human, she tells me to put on "American shows" for her. The last time, I turned on an episode of Law & Order SVU for her. She watched the entire episode with an attention that deserved applause, and at the end of it, she told me that she did not understand a word. Success!!!
7. She has refused to take a shower with the shower head; she would rather fill up a large bucket with water – Naija style. She said she has to do it that way because if she uses the shower head, the water won't be enough for her. I have not asked for her to explain what that means exactly.
8. She's one fried egg away from breastfeeding Igwe. Apparently, she's here to not only help me with Ada Verastic, but to also spoil her son rotten. Igwe acts like he has a short order cook at home. Today, he wants fried eggs, and tomorrow, he wants ojojo.
9. She's very shy and it's quite cute. Whenever I have the camera out, she can't stop giggling uncontrollably. It's like watching a twelve-year-old girl and her crush.
10. Although she does not do it anymore, during her first couple of weeks in America, she frequently asked about checkpoints and marveled at the cleanliness and "dent-free-ness" of cars and the roads they drove on.
Igwe calls her Yeere, and that's what I call her, too. Yeere means mother in Ijebu. Yeere is pronounced Yay-Reh.