My people, my 2018 is looking like it's going to be my best year yet. It looks like money is going to be chasing me in 2018 and I will have a lot more than I can possibly spend, and it's all thanks to my Nigerian Pepper Soup. Let me tell you all about it.
So, my friend, Uto was pregnant and due on December 27th 2017. I had originally predicted that baby would come on Christmas Day because I just thought it'd be cute to have a baby on Jesus's fake birthday (you do know that Jesus wasn't actually born on Christmas Day, right?).
On Friday, December 8th, I was checking up on her as usual and she told me that she was craving pepper soup. If you've been pregnant, then you know that the cravings usually need to be satisfied urgently. Unfortunately, I couldn't get to Uto fast enough. For starters, it snowed the next day. And then, two days later, I had to be somewhere all day after church.
Eventually, I scheduled to go see her on Wednesday with the pepper soup. I felt terrible that it had taken me so long to get there. I told Solachi that I wanted to deliver this pepper soup while she was still pregnant. Uto and I joked about her and husband pulling an all-nighter doing you-know-what to encourage baby to show up already, but I convinced her that that was not necessary because my Nigerian pepper soup would do the job.
Pause. You're probably wondering why I keep referring to it as Nigerian Pepper Soup, instead of just pepper soup. Well, for starters, I don't tryst ndi Ghana (Ghanaian people) because next thing now, they will come and claim that the pepper soup belongs to them. Secondly, I'm putting Nigerian pepper soup on the map! Well, technically, Nigerian pepper soup is already on the map, but hey, I'm giving it some much-needed attention.
Back to the story: So, on Wednesday, December 13th 2017, Ada Verastic and I went to visit Uto with a very hot bowl of Nigerian pepper soup (which I warned her husband not to touch). She ate some of the soup as soon as we got there, and this will sound crazy, but Uto started having contractions. I did not think anything of the contractions at first because I thought maybe they were just Braxton Hicks contractions, but my people, before I could say Okokomaiko, I was writing down her contraction times. They were coming faster and faster and faster. I was getting ready to run into Uto's pantry to grab some Crisco and a spatula because Vera was about to deliver her first baby. But alas, Uto's husband ended up rushing them to the hospital.
As fascinating as the thought of applying Crisco inside Uto to make her baby slide out was, I warned Uto to better close her legs and hold that baby till she gets to the hospital because all I came for was to deliver Nigerian pepper soup. By the time we all left the house, it was a mad dash. In fact, Uto and her husband drove off before me and Ada Verastic.
She got to the hospital and was five centimeters dilated, and at 9:06 PM that night, my Nigerian pepper soup baby was born! Nine pounds and thirty ounces and twenty-one inches in length.
Now, here's the thing, my people. In addition to being a content creator and everything else I'm doing, I am now also ready to start my Nigerian pepper soup business. Yes, honey! Are you pregnant and ready to drop the pikin? Call me to order your special labor-inducing pepper soup today!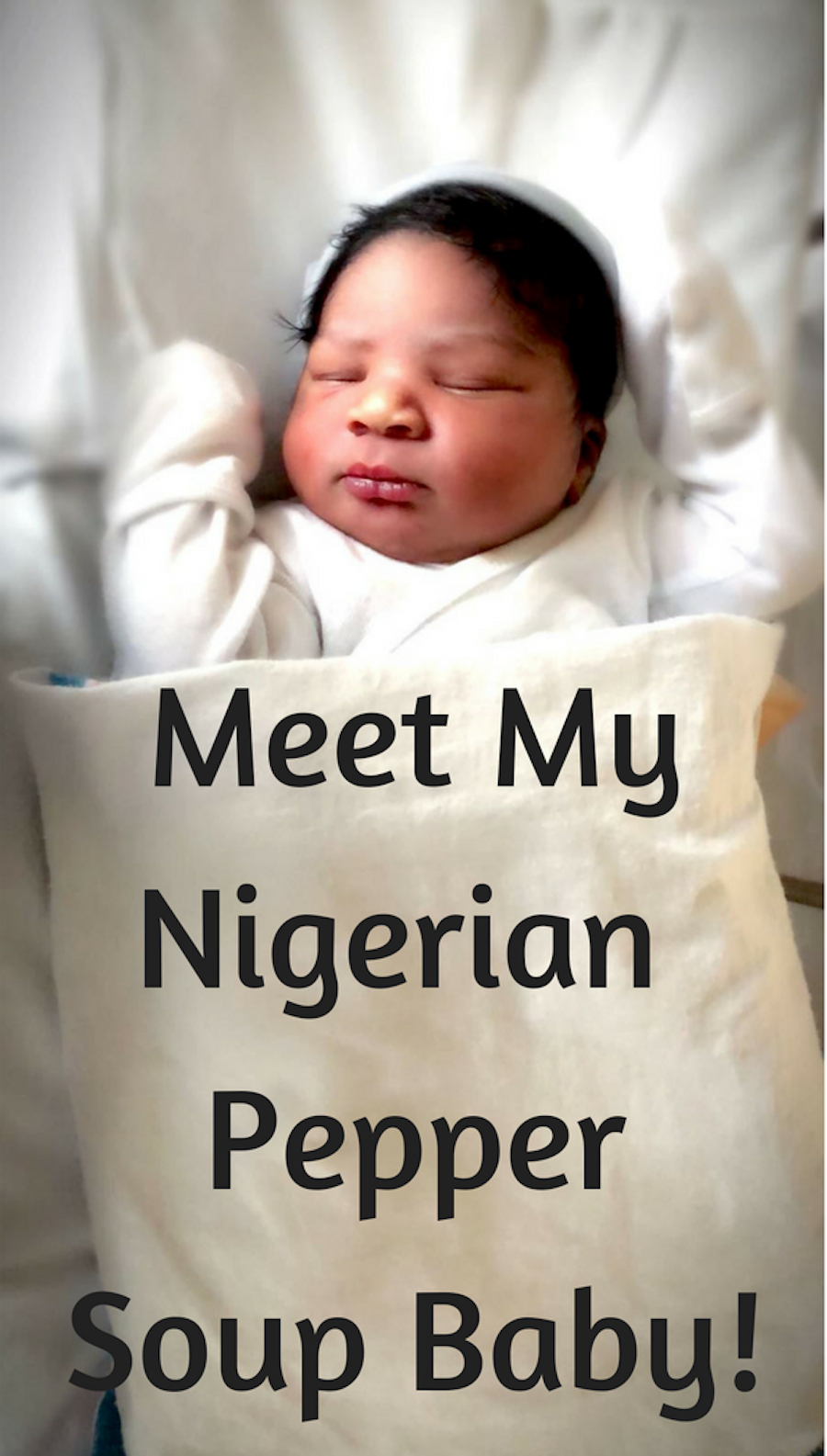 Just look at my Nigerian Pepper Soup Baby. Omalicha somebody. Look at his rosy cheeks – clearly courtesy of the hotness of my pepper soup. The boy tasted it in the tummy and said, "My God, my God, w\hat is that?? I need to come out and see for myself." Also, after Uto ate the pepper soup, we talked about a whole lot of things that had her laughing really hard. My assumption is that my Nigerian Pepper Soup Baby was not fond of all the extra laughter and movement, so he said enough is enough. I'm outta here!
Isn't he just perfect? My Nigerian pepper soup is balling on a very high altitude. Welcome to the world, my Nigerian Pepper Soup Baby.
P.S. Yes, his official name on Verastic is Nigerian Pepper Soup Baby. Or Pepper Soup Baby for short.