First of all, I have to apologize for not blogging much last week. Every time I tried to type, Ada Verastic needed my attention. I was starting to wonder if she was doing it on purpose. For those who celebrate Thanksgiving, I hope you had a blessed one. Apart from the efo I cooked a day before Thanksgiving, I didn't do any other cooking. We spent the evening with my family. Oh, and Happy month of December! Can you believe it's December already? My birthday is next month (14th) … woo hoo!
So, about the pregnancy. To better understand this post, you should first read why we decided to have a baby and all about my experience with birth control. Like I mentioned in these posts, I took my Mirena IUD out on December 9th, and this was my first and only experience with any kind of birth control, so I really did not know what to expect after.
I got my period about a day or two after I took the Mirena out, and it lasted for the regular 5 days. Then it left and came back about a week later and did another 5 days. Remember that while I still had the Mirena in me, I had a very light period, and it was irregular. The following month – January – my period came again, and it came exactly when I was expecting it to – 24 days from the end of the last one. Then in the month of February, my period did not come.
On any other day, I would have probably wondered if I was pregnant because my period was very regular. But because I had just recently taken out the IUD, I did not know whether my missing period was because my body was trying to get used to the IUD no longer being there or if it was because I was pregnant. Honestly, I assumed the former. In my mind, I figured pregnancy does not happen that quickly anyway.
During this same time, I bought myself a new satin sleeping cap. You know when you first buy them, they're still pretty tight around your head, so when I woke up the next morning with the worst headache I had ever had, I was sure it was the sleeping cap. I abandoned it the next night and went back to my old sleeping cap, but the next morning, I still had the headache. I popped Advil all day, but this headache was persistent.
Eventually the headache left, only to return a few days later and last for two days straight without leaving. I took more Advil. I wondered why I was having a headache so strong that lasted for so long, as this had never, ever happened to me. Headaches have never been things that I suffered from; my usual ailment – although it has not happened in a long time – is stomach pains, which is usually the stomach virus. These headaches were so bad that they debilitated me. I was lying on the couch for hours, lights off, with a wet towel over my head. It felt like my brain was expanding and constantly hitting the inside of my skull. Honestly, I was frightened.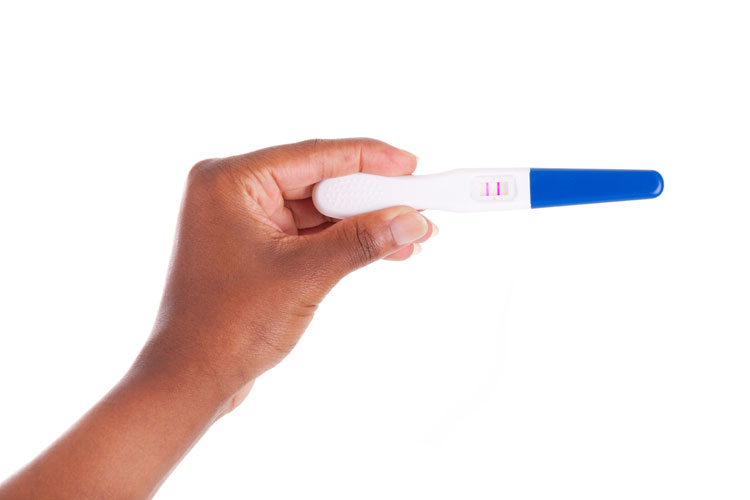 After a while, I stopped taking Advil because all the pills I had taken had not helped my headache. At no time did I associate headaches with pregnancy, but because my period was still missing, I decided to buy a pack pf pregnancy tests (there were two inside). I don't remember the brand now, but it was the one that showed the result with lines (like the picture above). I took the test and two lines showed up, but one looked faint, and depending on how you held the stick, the second line sometimes did not look like it was there, so Igwe and I read the test to be a negative.
More headaches. Then I started breaking out really bad on the right side of my face. I actually took a picture of it and I would have shared it here, but I have since switched phones and now I can't find the picture. The breaking out was strange because I don't usually break out, except when my period is approaching and I get a pimple or two, but never a full blown break out. We decided to take the test again, and we got the same result. And yes, we interpreted it the same way: not pregnant.
Then one day I was at a work meeting with a client who was being a real pain in the ass. She was not yelling, but every word she spoke felt like my brain was expanding some more and hitting my skull with a force that was deafening and blinding. Although I was physically at that meeting, I was not really there. We were inside the office, but I had to quint my eyes because everything seemed all too bright.
When we took a break, I went on my phone and googled unexpected signs of pregnancy, and there it was: migraine headaches. Ding! As soon as the meeting was over, I put on the darkest pair of sunglasses I could find in my car and drove to Giant. This time, I bought a pregnancy test that had its result clearly written. Igwe was working from home that day. I went in and told him the situation and we both went into the bathroom where I pee'd on the stick and put it face down on the sink. It was face down because although I wanted to know the result, I was afraid to know the result. I was disappointed when I took the previous tests and it said not pregnant, so I was afraid of being disappointed again.
We left the bathroom and sat at the dinning table like two kids who had been sent to the principal's office for bad behavior. Eventually, we went into the bathroom to look at the test. Igwe picked it off the sink while I buried my hands in my face, afraid and anxious of what the test might say. Then Igwe fell on his knees and thanked God over and over while silmuteneously kissing the pee stick. Uhm, eww.
Strangely, I was not relieved. I was happy, but I was not relieved. A part of me wondered, what if the test is wrong. I'm not cynical, but I was just afraid of becoming too happy too quickly. What if??? So although the test said I was pregnant, I was not convinced yet. It was not until I took a blood test at the hospital that I knew for sure I was pregnant.
Speaking of the hospital, that did not happen drama free. The day I took the pregnancy test was the day I got into a car accident. I still remember that when the accident happened, although I was not convinced I was pregnant, my hands immediately cupped my belly. And I remember that I rubbed my hand against my pubic area because I wanted to see if I was bleeding. I feared that I might have lost the baby, the baby I had not even accepted yet. So at the emergency room, the nurse gave me some medication for my pain. I was going to take them, but then I told her, "I think I might be pregnant." So she took my blood, came back later and said, "Congratulations! You're having a baby."
Say what???
And that, my Sweet Potatoes, is how Igwe and I began our journey to baby. There was not a single moment during the pregnancy that I was not afraid. How could I not be? I was carrying a human being inside me that I had no control over. It was extreme mind fuckery, as my mind was able to conjure up memories of all the sins I had committed in my life, all the reasons why God should actually not bless me because who am I to be remembered this way by Him?  Thank God my ways are not His ways. Being pregnant reminded me again that even in my own life, I am not boss. He's still the Author and Finisher. I am only dust.
I just got very emotional typing this post. Seriously, please take a couple seconds to thank God on my behalf because I feel like I am doing a terrible job at telling Him how grateful I am. I don't feel like I have the ability to thank Him enough.
P.S. You're not supposed to take Advil while pregnant; I did not know that until the day I went to the emergency room and the nurse told me that Advil can cause birth defects.
P.P.S. The pimples disappeared toward the end of the first trimester. They never came back again, and they mysteriously left no scars.
P.P.P.S. Igwe kept the pregnancy stick in his night stand and kept looking at it to make sure it still said "Pregnant" until the stick (maybe battery) died and the word faded away.
P.P.P.P.S. Tomorrow, December 2nd is our 4th wedding anniversary. I have put up with Igwe for a total of 5 years and some months. I don try oh!
"For my thoughts are not your thoughts,
neither are your ways My ways,"
declares the Lord.
"As the heavens are higher than the earth,
so are My ways higher than your ways
and My thoughts than your thoughts"
~ Isaiah 55: 8-9 [NIV]