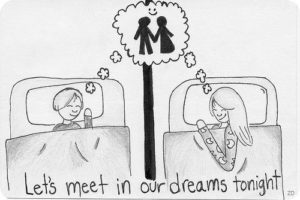 So Igwe traveled to Nigeria in March and only came back last week.  I was very anxious about him being away because since we started this journey of ours, we have never been apart. I mean, we've both traveled separately, but not three freaking months. Every time I remembered he was traveling, my heart would literally start beating really fast.
The first night he was gone was the hardest. I didn't really know what to do with myself. The house was so quiet, too quiet. It was just me and my gadgets, and as much as I loved using them, they were not people. I started from March to look forward to June. I went to bed early that first night, but it was torture because I couldn't sleep. I didn't want to sleep. But I didn't want to stay awake either.
The next morning, I woke up early and once again, had no idea what to do with myself. There was no one demanding pancakes, bacon, and sausage. So at 9AM in the morning, I went to the mall, just for time to move. I came home before The Verastic Show started, and I won't lie, the show helped me for the two hours it was on. Being without Igwe became less difficult as time passed, but it was never easy. His brother, Olamide must have called me like every other day to check up on me (Thanks, Olamide!). And Funmie and Uju were sweethearts as usual. That said, I have learned some lessons, and I want to share:
1.  Long distance is HARD. It's HARDER when you've been together [physically] for so long.
2.  The fear of agro is the beginning of sexual wisdom. I have never, ever been the type to have lack of sex as a problem. I've gone years without it and not even thought much of it. But with Igwe being gone, it was ridiculous. I'll never forget this one random Thursday that I thought about sex from dusk till dawn. It was pretty bad.
3.  Nigerian networks are possibly the number one reason for heart attacks in Nigeria. Igwe had three phones, and sometimes, I couldn't talk to him on any one. We'll talk on one till the reception disappears. Then we'll switch to another one. And another one. There were times I'd call and it'd tell me that the number I was calling did not exist. Or his line would get crossed to someone else's line. Or we'll be talking and I'll be hearing someone else's conversation. I mean!
4.  Nigeria is expensive. I don't know why people say it's cheap, but it's EXPENSIVE! I don't know how we made it by. I don't mean to sound like a cliché, but I really, really give God all the glory for making things happen and making our ends meet.
5.  When a man travels to Nigeria for three months, he comes back as a ravenous sexual beast, where the mere touch of a bare breast has him calling his God.  And that's all I'm going to say on this. Insert coy smirk here.
6.  When a man travels to Nigeria for three months, he also comes back needing to be reacquainted with Obodo Oyibo. On our way home from the airport, Igwe marveled at the nice highway and buildings, and at some point, he asked, "There's light, right?" To which I replied, "Where do you think you are?" When we came back home, he lay flat on the floor for a few minutes. The carpet smelled good. He opened the fridge several times, excited at it for reasons I cannot explain. He opened all the kitchen cabinets, too. Even the faucet put a big smile on his face. On the first night home, we slept with the lights on because the darkness reminded him too much of Nigeria. He kept saying he was hopeful that Nigeria would be this way (like America) some day. Not just the Island in Lagos, but Nigeria as a whole.
7.  When a man is away from everything that is familiar to him and he is in desperate need of help, sometimes, that is the time he discovers his true friends. And the discovery isn't always an easy pill to swallow.
8.  I have learned that I am stronger than I think. This realization is a double-edged sword. Sure, I am happy that I am stronger than I think. But sometimes, I feel like God is continually trying and testing my strength, and I really wish He wouldn't.
9.  Igwe and I have become even closer. Being away from each other required a lot of trust, and I am not talking about trust because of infidelity. That was never an issue at all. The trust we needed was for far greater things that I cannot even talk about to anyone. At least not yet.
10.  Apparently, I don't really care to cook. You know I cook, right? I usually show you my food sometimes via my iCook posts. But when Igwe traveled, I stopped cooking. I think I cooked stew once or twice. And I cooked pasta a couple of times, but after that, I was done. My meals consisted of frosted flakes, honey nut cheerios, yogurt, Chipotle, and of course, free food from Funmie's house. I have decided that when I grow up, I must have a chef at home cause I ain't about this cooking life.
11.  Big dreams require big sacrifices, and this is ours. So we hope to God that He sees us through, as He always does.
Amen.