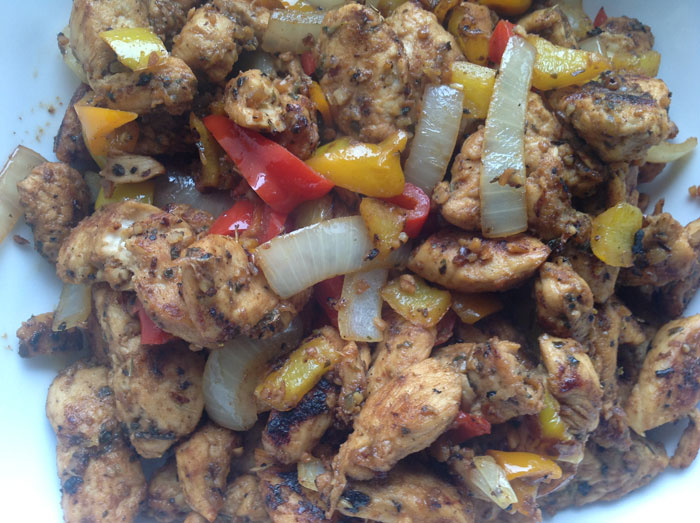 Garlic lime chicken fajita … all done, ready to be served
I love fajitas, and since I already know how to make regular beef and/or chicken fajitas, I thought it'd be nice to try this new recipe. It's very easy to make, and it doesn't take long at all. You should try it.
Ingredients:
1.  About 1 1/2 pounds of boneless chicken breasts (I used tenderloins which I cut into little pieces).
2.  1 medium red bell pepper (I used two: red and yellow).
3.  1 medium onion, sliced.
4.  8 floor 8-inch tortillas (I did not have 8-inch ones; I used 12-inch ones)
5.  1/4 cup of orange juice
6.  1/4 cup of lime juice
7.  2 tbsp of olive oil
8.  1/2 tsp of salt (I used way less)
9.  Minced garlic
10.  Minced onions
11.  Ground cumin
12.  Oregano leaves
13.  Cilantro leaves
14.  Ground black pepper
Directions:
1.  Mix juices, oil, and all of the spices and salt in a small bowl. Reserve 1/4 cup of the marinade. Place chicken in large resealable plastic bag or glass dish. Add remaining marinade; turn to coat well. Refrigerate 30 minutes or longer for extra flavor.
2.  Cook and stir chicken in large heated skillet on medium-high heat 3 minutes or until lightly browned. Remove from skillet. Add bell peppers, onion, and reserved marinade; cook and stir 5 minutes or until tender. Return chicken to skillet. Cook 2 to 3 minutes or until heated through.
3.  Spoon chicken mixture into warmed tortillas. Serve with assorted toppings, if desired.
The first picture shows the chicken and veggies after they got cooked. As you can see from my fajita picture, the fajita was too big. I used a 12-inch one, instead of an 8-inch one. But it was still very yummy. Ask Igwe.  Meanwhile, it's Saturday, so if you're not too busy, go ahead and try this recipe. Let me know how it turns out.
P.S. This is a McCormick recipe, and it takes about 15 minutes to prep and 10 minutes to cook. 30 minutes to marinade, if you do. I didn't. Igwe is grumpy when he's hungry.