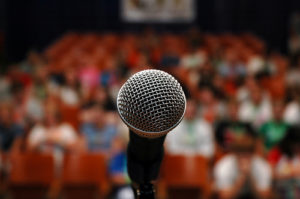 One of the things I love about living in Maryland is the different seasons. It's fun to change your wardrobe from Fall to Winter, to Spring, and to Summer. My favorite season is Fall. The weather is perfect, the leaves are shades of orange and red, and my skin is grateful. Winter is too cold. Summer is too hot. Spring is a sell out. By the way, if I had to pick between Winter and Summer, I'll definitely pick Winter. I HATE being hot. I can do all kinds of layers during the winter to keep me warm, but even going in my birthday suit will not keep me cool during the summer.
The one thing that I do love though about the summer is the events. From cookouts to birthdays to graduations, and of course, to weddings. I am especially excited about the events when I get to MC them. Fun! Fun!! Fun!!! I have a few events lined up for this year already, and what makes it even more exciting is that these clients contacted me because of my blog and show. *Dancing Azonto*
So, if you're having any kind of event this year, I am your girl. If you read this blog and/or listen to The Verastic Show and you have an event without hiring me. I will come there and snatch your wig. If you are a man, don't worry. There are other things I can snatch. The event doesn't have to be in Maryland. It doesn't even have to be in the U.S. of A. I can travel. I sometimes wish I lived in a mostly warm State where events are all year round instead of just a few months (in the Summer).
And that's not the end. I also do public speaking. So if you need a speaker at your event to talk about topics like relationships, social awareness, women, men, culture, and social media, then I am also your girl. I would be beyond happy to work with you. There are three places that I absolutely love to be: (1) Behind a microphone, (2) In front of a camera, and (3) Behind a computer.
So, if you're interested, just fill out the form below (or use my contact page), and I'll get back to you within 24 hours.