My asun recipe fail is the topic today.  The last time I did an iCook post, it was about my epic chin chin fail. This time, the fail is for asun, but it was not epic. I'm even almost sad that I didn't fail more. So let me tell you about my asun.
It happened over the weekend, and this past weekend was a holiday for us because of Memorial Day. On Friday, we attended a traditional Yoruba wedding for our friends Mikki and Ayo, and then on Sunday, we attended their wedding in Washington D.C, and Monday was a public holiday. Before the weekend even started, we had grand plans about how productive we were going to be over the holiday weekend, especially on Monday. We were not going for any cookouts, and we didn't have any other plans, so of course, we were going to be working, moving the ministry forward.
So What Actually Happened On Monday (and what does the asun recipe have to do with it)?
When Monday came, however, all we did was eat, drink, sleep, and repeat. But first, I had the idea to make asun. I had never made asun before, but I read up on several asun recipes. All the recipes were pretty much the same. One main "ingredient" I didn't have was an outdoor grill. Although, I do have one tiny, little coal grill that is more for an outdoor picnic than it is for a top-floor balcony cookout. I briefly contemplated using my grill on the balcony, but we're on the top floor, and somehow, I kept imagining a piece of hot coal falling through the plank creeks and on to our neighbor's head downstairs. Very unlikely – if not impossible – because the spaces between the planks are not big enough to let coal pass through.
Anyway, so I followed the asun recipe completely, but did my asun without putting the goat meat on the grill. Instead, I used my chinese wok and tried to give it that fire-grilled burn, but it if e no be fire, e no go fit be like fire. The result was asun-ish goat meat. Tasty. Spicy. Asun-ish.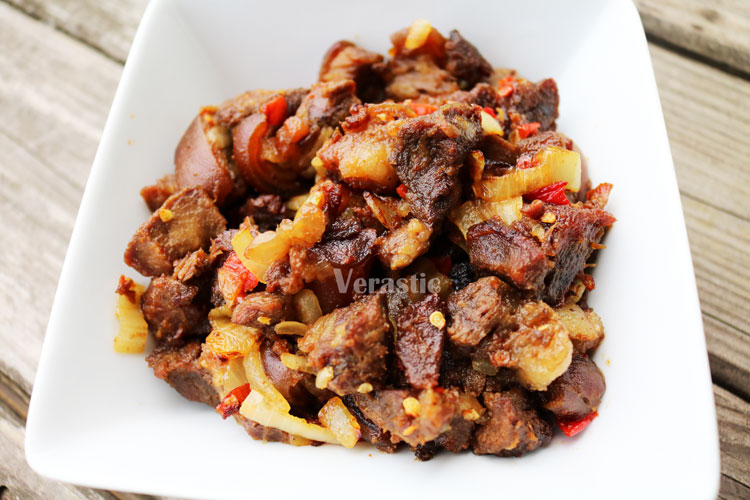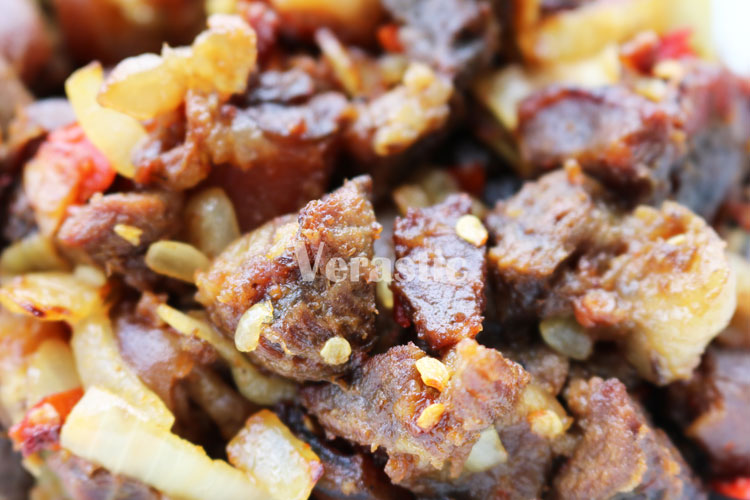 Of course, Igwe did not complain. In fact, he ate half of it before I even had a chance. Before I ate some, I was sure to have readily available every beverage in my fridge (water not pictured), including a glass of milk to tame the volcano that was about to erupt in my mouth once I ate the asun-ish asun.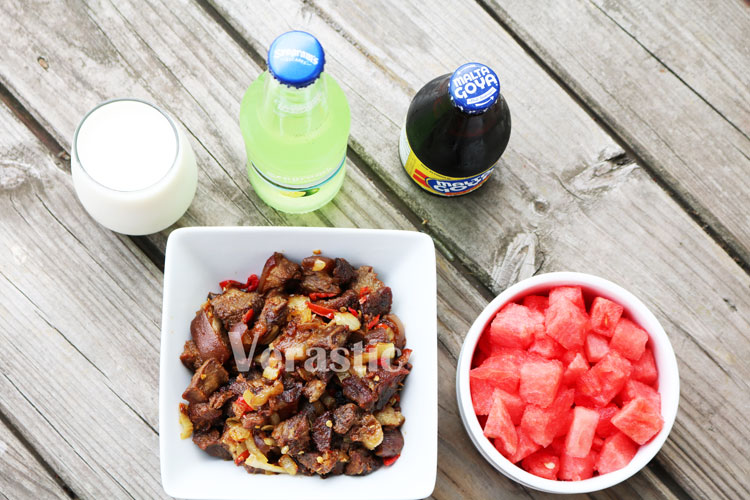 Also, there was watermelon, cut up in tiny, little cubes, just as I like them. Yes, this is how I cut up my watermelon every time. So after eating asun-ish asun and drinking it down with several beverages, you can understand why nothing else was accomplished.
P.S. Just like the chin chin post, it was not the fault of the asun recipe that my asun did not turn out exactly as expected. Looking forward to when we buy a house and have an outdoor grill. Whether or not I'll actually grill anything remains to be seen. For all I know, it might just remain nice and shiny for ever. Then I'll make up a new asun recipe that does not involve the grill. It'll be called asun-ish.
P.P.S. I may or may not have eaten an entire watermelon by myself.