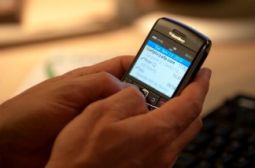 This is an issue that I have been tackling on Twitter with one of my followers. Well, I think she's a follower, not entirely sure. I'm too lazy to find the original tweet, so I'm going to paraphrase the question.
Question: Should a wife add her husband's ex on her BBM to tell her to stop sending BBM messages to him late at night?
In case you're confused, the question is should a wife confront her husband's ex because she's sending him messages late at night? These messages include Happy New Month, Happy New Week type of messages. I am not aware that there are personal or "inappropriate" messages.
Her point is that the ex is feeling too familiar. Must she really send messages to someone else's husband every single time? And must she do so at that time of the day night?
Where I stand: It is possible that there is nothing going on between this ex and the husband. However, most wives will not appreciate it anyway.  If the wife does not like the relationship between her husband and his ex, she needs to confront her husband, not his ex.
The other part of this problem is that the husband has apparently refused to control the BBMing between him and his ex because he says that she is his friend. It makes sense that he says she is his friend, considering their history. But whether or not she's actually a friend isn't the main issue here. The issue is that his wife does not like it.
Personally, I think the husband is to be blamed completely. Firstly, when someone is an ex, I think it should remain that way. I am of the opinion that a person who used to be your partner – especially a sexual partner – cannot go back to being just a friend. Once that sexual (and emotional) line is crossed, it's difficult to go back. It does not make it impossible to go back; it just makes it highly unlikely. Secondly, when you are married, you have to put your spouse above all else. It kind of comes with territory.
If the husband really wanted to control the relationship between him and his ex, he has all the power to do so and much more.
He can delete her from his BBM (my most preferred way).
He can ignore her messages.
He can tell her to not send him BBM messages as much.
He can tell her to not send him BBM messages at certain times of the day.
But he has chosen to not do anything because she's his friend. And now, the wife is considering doing it herself. I think that would be a wrong move.
What do you think?