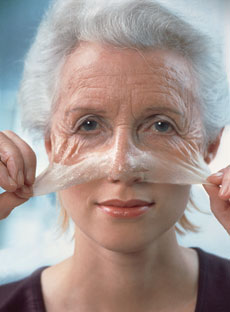 It's quite unfortunate all the things that we (women) have to think about and deal with. Just like men don't think as much about their waist line, they also barely think about anti aging remedies. In fact, the likes of George Clooney and Denzel Washington are celebrated for being distinguished. Not old. Distinguished. But I have never heard the likes of Meryl Streep and Betty White described as distinguished. They're just old. Or older.
So my friend, Uju (yes, the doctor one who is always giving me reasons to not sleep at night) said we should start using anti aging cream because Iman said it's better to start using it now than later. See me see trouble oh. I am still in my twenties! So I thought to myself, Uju must be crazy if she thinks that I – a very young, fresh, happening twenty-something year old girl and fountain of youth – will start using anti aging cream. The gods forbid it!
Still, I indulged her in this idea. And we talked about the brands of anti aging cream. Where does one even begin? Shall we start from the drug store brands like Olay, Roc, Neutrogena, L'oréal, etc? In fact, I think almost all beauty brands have some sort of anti aging cream, and they all swear that they are the best; they all promise to have you looking sixteen in no time – not in those exact words. Or shall we go to the department store brands like Lancomê and Clinique? Those ones are on the higher end. And then, there are ones that people like me don't even know of because they are not for people with my kind of income. You know, those ones that cost more than my rent.
According to what I read, the anti aging industry is a multi billion dollar industry, and it's easy to see why. Women are so obsessed with not aging, and I wonder if we are fighting the inevitable. There are all kinds of things for women to use to make us drink from the river of Forever Young, but the problem is that try as we might, we just cannot be forever young. These anti aging remedies have ingredients like retinol, peptides, and collagen, and I am pretty sure that the average person has no idea what these are or how exactly they kill the demon of aging. They all promise to visibly reduce signs of aging like wrinkles and fine lines.
There are also treatments like botox, chemical peels, and the famous vampire facial that Kim Kardashian did, all to make us look younger. But why are we so obsessed with youth? My most memorable discussion about youth was with a woman who works as a personal trainer at LA Fitness. She told me, "I can give you what I have (fitness), but you can never give me what you have. You have youth." I thought it was profound. Indeed, she could teach me how to acquire six packs in two easy sit ups, but there was nothing I could do to take her from her fifties and back to her twenties. I also remember once it was really sunny outside – the kind that blinds – and Uju refused to squint her eyes in spite of the sun being in her face because squinting your eyes will cause wrinkles. I chose to squint my eyes and retain my sight.
According to an article I read on WebMD (and yes, I know that WebMD isn't the Journal of Medicine), the best thing that people in their twenties and thirties can do to maintain their skin is avoid smoking and apply sunscreen (at least spf 30) every single day. I do not smoke, but I don't use any sunscreen either. None whatsoever. I have also read many times that water intake improves the quality of skin. And more times than I care to remember, I have been told that "Black don't crack," and I take that to mean that in addition to using spf 30 everyday, drinking lots of water, and not smoking, you can also be Black.
I'm writing this now because when I went to Walmart yesterday, I found myself staring confusingly and longingly at the anti aging aisle. From lotions to creams to mists, and to serums, and from eye creams to lip creams to neck creams, and to hand creams, I stared at each of them. And when I left, I was more confused than I was when I went there. I am not completely sure yet if I regret going there. But I would like to know what other women, especially ones around my age do – if anything – for their anti aging regimen.
What kind of anti aging cream do you use? How long have you been using it? Are there visible changes? About how much do you spend on your anti aging regimen?