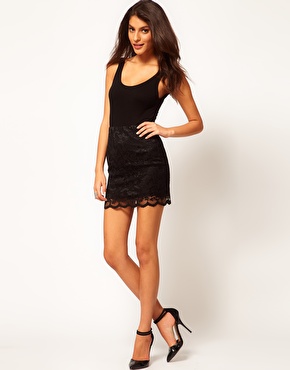 Sometime last year – can't believe I'm referring to 2012 as last year – Uzo and I got to talking about clothes, and she mentioned to me that when a woman gets to a certain age, she cannot – should not – wear certain clothes. And of course, this makes sense. Can't imagine my grandma in short shorts. We got to the issue of skirts because I love skirts. And most of the ones I have are short, though not as short as the one in this post.
According to Uzo, when a woman becomes 30, she should not wear a certain length, and the length of this skirt here is an example. I don't know how I feel about that. I am not 30 yet, but when I'm 30, I think I'll still be into short skirts. I wouldn't wear the one in this picture because it isn't my style, and it's probably too short, but that's just based on my taste, not my age.
When it comes to fashion/style and age, I think that women of a certain age should not over expose their bodies, of course, but I don't consider a certain kind and length of skirt to be in that group. Take me for example, I don't like showing my breasts, cleavage, etc. I absolutely love my breasts oh, but I don't think everyone needs to see them. But for my legs, I don't mind showing them, and I do so more because I love the outfit than because I want to show legs or be seductive. Seductive? What's that?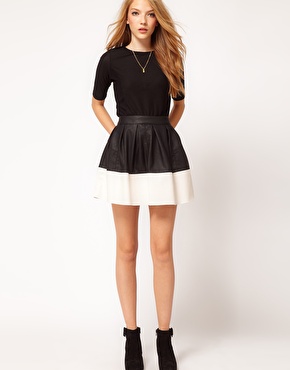 Now, this skirt on the other hand, I love it. And I would absolutely wear it. It's still short, but it's a different kind of short. I actually remembered this conversation with Uzo because yesterday I went to the grocery store to buy some bread and milk, and while I was driving out of the parking lot, there was a woman, looked to be in her 40s, bent over the hood of her car. She had on a black mini skirt, knee-high tights and boots. She also had on a black thong, and I knew this because her ass cheeks were completely out.
Men were walking by and gawking. I don't know how this woman could not have felt that cold air blowing on her bare bottom. See, that kind of outfit is a no-no for any woman, regardless of her age. There's no reason why everyone should see your bare ass cheeks. And same goes for women who wear low-rise pants. It's okay if it stays at that perfect place, but if you are endowed, even if just a little bit, you should stay away from them. Or wear the pants with a belt. I'm tired of being assaulted by bare ass cheeks. This is 2013, people! Protect the cheeks.
But I digress. This is about the skirts that 30 year olds should wear – or not wear. What do you think? Can a woman over 30 wear any of the skirts in this post?
Source: Skirt 1: Lace skirt from ASOS  ||| Skirt 2: Skater skirt from ASOS