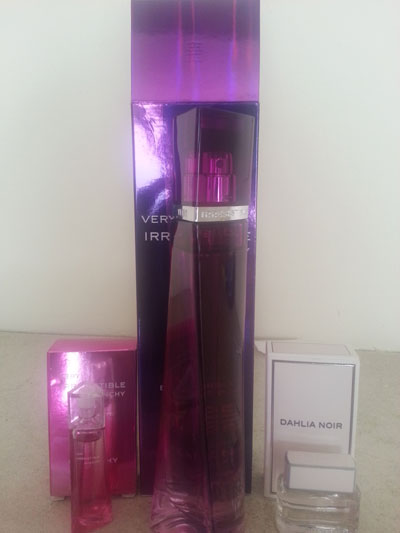 You know how much I love perfumes, right? A while ago, I owned over 30 bottles of perfumes to my name. I decided then that I would not purchase one single perfume until I am done with every bottle. I technically got done with every bottle. There are two left now, and that's just because I don't really like them much, so I have only used them because I did not have a choice.
Fast forward to before Christmas. I went to Macy's with the intention of buying a brand new fragrance. After smelling almost everything there, I was leaning toward Oh, Lola by Marc Jacobs. But I was not sold, so I told the lady that I would be back. I came back another day and smelled everything again. No, I mean, really, EVERYTHING. The only ones I did not smell were the ones I already knew I did not want.
However, when I came back some days later, I did not like Oh, Lola anymore. Well, I still liked it, but I was not so willing to buy it anymore – at least not as my first [and only] fragrance. As a second choice, sure. So I started again to smell everything from the beginning to the end. I felt sorry for the Macy's lady that was helping me. I told her she didn't have to, but she insisted.
That was how I met Very Irresistible by Givenchy. The interesting thing about this fragrance is that I used it before … kinda. I used the Very Irresistible Eau de Toilette. But the one I discovered at Macy's was Very Irresistible  Eau De Parfum. I wanted the set, but they did not have it anymore. Instead, they had another set that contained only the perfume (a bigger bottle than the set I originally wanted) and an itsy bitsy bottle of Very Irresistible Eau De Toilette. The lady decided, however, to also add a small bottle of Dahlia and samples and small bottles of about five other perfumes.
I also got a tote because I spent over $75 AND a set of little bottles that contained 8 fragrances. I did mental back flips. The set contained: Light Blue by Dolce & Gabanna, Daisy by Marc Jacobs (used this one before, not bad), Dot by Marc Jacobs (the newest fragrance by Marc Jabobs. Not bad either), Euphoria by Calvin Klein (used it. Loved it), Cashmere Mist by Donna Karen (never used it; don't know the big deal about it … YET. Maybe this will change my mind), Viva La Juicy la fleur by Juicy Couture (never used it), Poppy by Coach (I did not like this when I smelled it at the store, but maybe this little bottle will change my mind), and finally, Guilty by Gucci (I don't even remember what it smelled like in the store).
Come February, I will be back at the store for another perfume. Why am I waiting for February? Well, that's Valentine's Day, and perfume sets will be on sale again.  For now, I'll enjoy using my Very Irresistible. You should see the broad smile on my face when I'm using it. And I have only two words to describe Very Irresistible: VERY IRRESISTIBLE.
Please approach me with caution whenever you spot me. This perfume can make you do things you did not plan to do [to me].  And if you do these things to me, I might be forced to oblige you. Yup.  It's that irresistible. I am an unapologetic smell-gooder. I sniff people. And I sniff myself. Several times. I love smelling good. No, I mean I love SMELLING good. And when people tell me that I smell good, I think it affects me more than, "You look good."
Not to worry your pretty little head, there are more perfumes that I want, so you're welcome to buy any (or more) of those for me. Happy Sunday. While you are at your place of worship today, please commit the issue of my future perfume into the hands of the Lord. Ask Him to provide you with the money, the strength, the wisdom, and the grace to buy me my new fragrance. Tis, my birthday is approaching!