When it comes to beauty and skincare products for women, the possibilities are endless. I bet that some of you reading this right now are still wondering the difference between BB, CC, and DD creams. Not to worry, that's a post for another day. Today, however, I want to talk about something that most of us have given some thought: antiaging solutions!
So … when Vine Vera contacted me to test and review a couple of their products, I couldn't say no. Confession: the name alone got my attention. And so it began, a relationship between me and these beautifully packaged products. I understand that what matters most is what's inside the container, not what's outside. But beauty and admiration starts from what we see (before what we feel, taste). I received two products from Vine Vera: Resveratrol Carbernet High-Potency Cream and Resveratrol Carbernet High-Potency Serum.
What makes this cream and serum special? They have Resveratrol in them, which is an antioxidant found in grapes and red wine. Resveratrol is believed to maintain a youthful appearance by slowing the aging process down — and isn't that ultimately what we want? I know for sure it's what I want. Let me tell you about these products.
About the Resveratrol Carbernet High-Potency Cream:
The job of this light cream is to "reduce the signs of aging while replenishing the skin's loss of moisture." The first thing I did was to open it and smell it. Smells good? Check.  I love the consistency of this cream. It's a truly light cream that goes on your skin smoothly and doesn't leave it feeling heavy and clogged, like you just coated your face with Crisco. This cream just glides on smoothly and absorbs quickly into the skin. Find out more and purchase here.
About the Resveratrol Carbernet High-Potency Serum
The serum does the same exact job as the cream, but comes as a serum instead. Its consistency is like baby oil, except not as thick or as heavy. You get the best results when you combine them both. You don't need a lot of this serum to moisturize your face, and just like the cream, it absorbs quickly, too. And no, it does not leave your face shiny. Find out more and purchase here.
You know what my absolute favorite part of these products is? They're both made without these harsh ingredients: Parabens, Propylene Glycol, Mineral Oil, Paraffin, Lanolin, Petrolatum, Formaldehyde, Acetone, Alpha and Beta Hydroxy Acids, Sodium Laurel or Laureth Sulfate, Ammonium Laurel or Laureth Sulfate, Synthetic Coloring.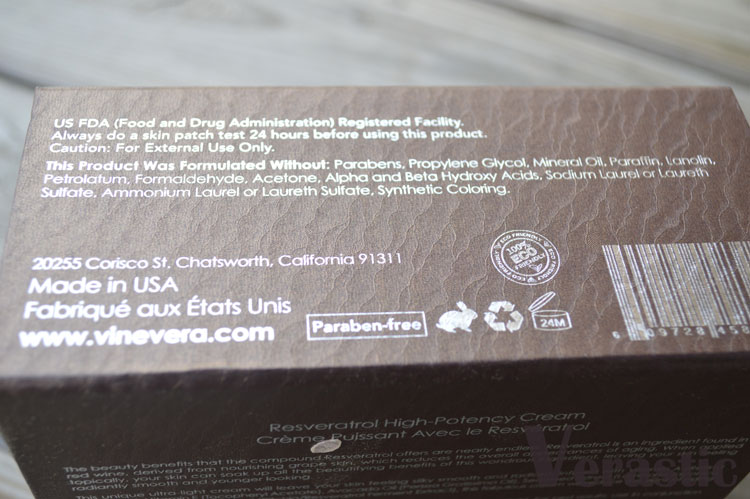 For a girls who prefers clean products, this is Heaven, and would I buy it? Yes, I would.
Looking your age? Who has time for that?
Find out more about Vine Vera: Website ||| Facebook ||| Pinterest |||| LinkedIn ||| Instagram ||| Twitter