This is a sponsored conversation written by me on behalf of Always Discreet. The opinions and text are all mine.
Oh, where do I begin? My body has not been completely the same since Ada Verastic exited it almost two years ago. For starters, there's the c-section scar on my bikini line. The scar is almost invisible now, but every now and then, I look at it in wonder. Sometimes it's hard to believe that little ol' me carried and birthed a whole human being. I like that scar. It's my lovely battle scar. It reminds me of what a superhero I am, and it reminds me to be thankful for the body that I'm blessed with.
Then there's what I like to call the happy bladder. It started while I was pregnant. The littlest cough or sneeze or laughter would trigger a bladder leak. Almost two years later, my overactive bladder is working hard to match my overactive mind. Basically, what happens most times is that I find myself imagining something that will likely never happen – like last Friday when I was imagining a no-pants-day policy and I imagined very important men walking around with no pants – and what happens next is an uncontrollable fit of laughter that follows by a bladder that also has a sense of humor. Sometimes, my eyes join in and leak too. To be honest, I don't even have to laugh to have my bladder leak.
While my bladder leaks may be light, it does not change the fact that urinary incontinence in women is more common than you think. Did you know that one in three women have bladder leaks? And the statistic is even higher among Black women. One in two African American adult women (at least eighteen years old) experiences bladder leaks. Now, here's the shocker: only one in nine women actually uses incontinence protection.
I used to be one of the one in nine women who did nothing about it until I discovered Always Discreet. The truth is that bladder leaks are very common, but we prefer not to talk about it or do anything about, and this might be due to misinformation and/or lack of any information at all. There are different kinds of incontinence, which means there are different ways to manage them.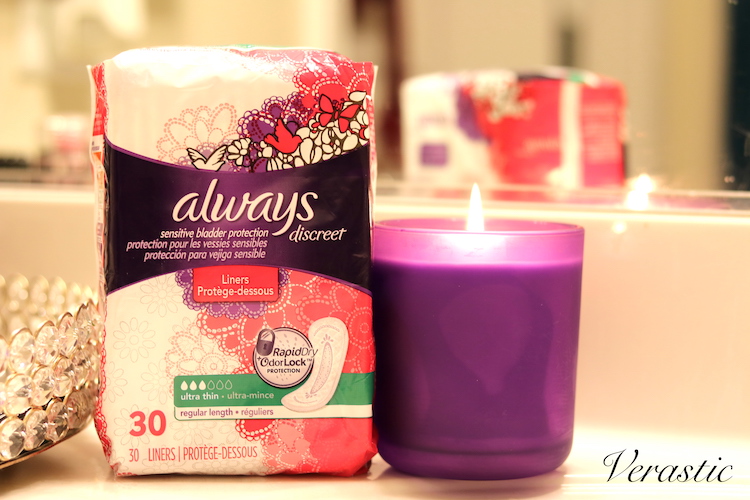 Always Discreet has three different products that provide varying degrees of support. First, there are the Always Discreet Incontinence Liners (and these are the ones I use). These liners are for light bladder leaks, and they absorb two times more than the leading period liner. Next, there are Always Discreet Incontinence Pads. They are for moderate to heavy bladder leaks, and they absorb four times more than period pads of a similar size. And finally, there are the Always Discreet Incontinence Underwear. They are for the heavy leak, and they come 360 FormFit™ design. All Always Discreet products come with RapidDry™ and OdorLock™ protection.
Apart from the confidence that comes from being protected by Always Discreet, there are other great things to know about Always Discreet. For example, its RapidDry™ technology turns liquid into gel and absorbs four times more than pads of similar size. While regular pads have wings, Always Discreet pads have full-length Double LeakGuards™ , which help them stop leaks at the legs, where they happen most. And finally, Always Discreet pads are 45% thinner than the leading incontinence pads. It's a win-win-win. There are two things that you must remember about bladder leaks: it's more common than you think, and you don't have to endure it because Always Discreet can help.
This post is brought to you through my partnership with Always Discreet, but all opinions are 100% mine.